WWE HOFers And AEW Star Featured In Upcoming Chyna Documentary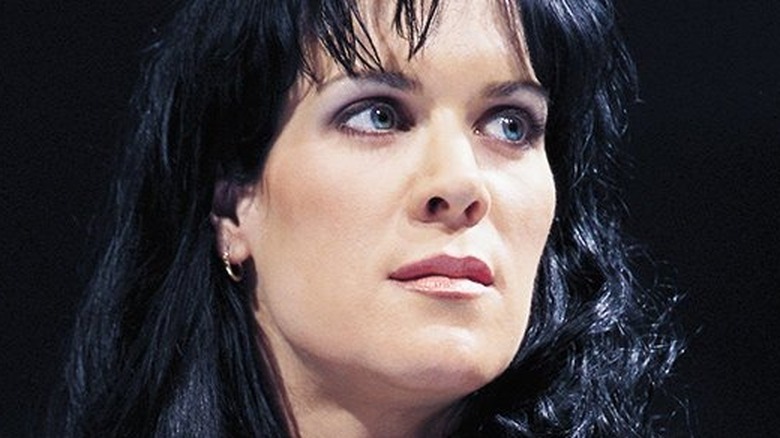 WWE
Chyna experienced some tragic moments in her life, but she will go down in history as a groundbreaking performer. The WWE Hall of Famer broke down barriers for women's wrestling in the late '90s and early 2000s, getting over at a time when it was very much an afterthought in WWE. The upcoming documentary "Chyna: Wrestling with Demons" will chronicle her life and career, and it's set to feature stars from across the wrestling world.
According to AMS Pictures, the Reelz documentary will feature appearances from WWE Hall of Famers Diamond Dallas Page and Tammy "Sunny" Sytch, as well as AEW's Jade Cargill. As the report highlights, "Chyna: Wrestling with Demons" will examine Chyna's status as a pioneer of women's wrestling and delve into the struggles she faced after exiting WWE in 2001. 
Cargill has been dominant since she debuted in AEW and remains undefeated as the current TBS Champion. As such, Cargill has been compared to Chyna and Goldberg, both of whom enjoyed dominant streaks during their respective in-ring heydays. However, the AEW star has been vocal about her admiration for Chyna in the past, and she'll undoubtedly elaborate on the Hall of Famer's influence in the upcoming doc.
DDP and Sytch, meanwhile, knew Chyna personally. DDP has commented on their friendship in the past, and he was one of many people who paid their respects following her death in 2016. Sytch, on the other hand, was in WWE when Chyna debuted in the company. Furthermore, she previously told TMZ Sports that she reached out to try and help Chyna before she passed away.
"Chyna: Wrestling with Demons" premiers February 5, 2023, on Reelz.