Kevin Nash Says Scott Hall's Son Broke His Neck In Japan, May Not Return To Wrestling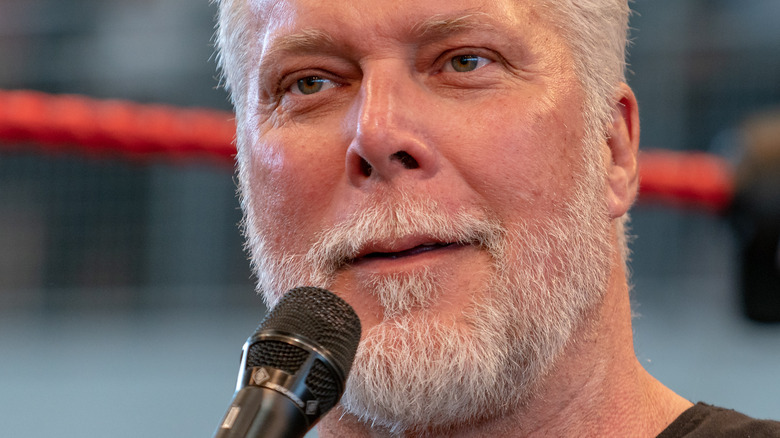 Markus Wissmann/Shutterstock
Cody Hall, the son of the late, great Scott Hall, broke his neck a number of years ago wrestling in Japan, as per Hall of Famer Kevin Nash. Though it was known that Hall suffered a neck injury in 2016, Nash recalled it as a broken neck on the most recent "Kliq This" podcast.
When asked about Cody Hall's future in pro wrestling, Nash kept his answer pretty simple. "Cody's just living life right now. Just trying to piece everything together. He misses the wrestling business, I know that. He had a pretty bad injury over in Japan, he broke his neck. I think he's soured to it."
Cody spoke last year after his father's passing on still visiting WCW legend Diamond Dallas Page for advice. The last time the wrestling legend's son stepped inside the ring was all the way back in September. He had previously wrestled for Major League Wrestling, but parted ways with the company in 2020.
As for whether Cody would ever follow in his father's footsteps and wrestle on a bigger stage, be it AEW or WWE, Nash argued that Cody's age could be a factor. "He's getting old, you know? He's like 33, 30. He'd have to jump on it pretty soon," he said.
Cody had previously wrestled in Japan, featuring in New Japan Pro-Wrestling, DDT Pro-Wrestling, and Pro Wrestling Noah, and was also once a part of NJPW's Bullet Club faction. Tragedy struck the wrestling world in early 2022 when Scott Hall passed away due to a heart attack at the age of 63.