Tony Khan Announces 43,000 Tickets Sold In Ongoing AEW All In Pre-Sale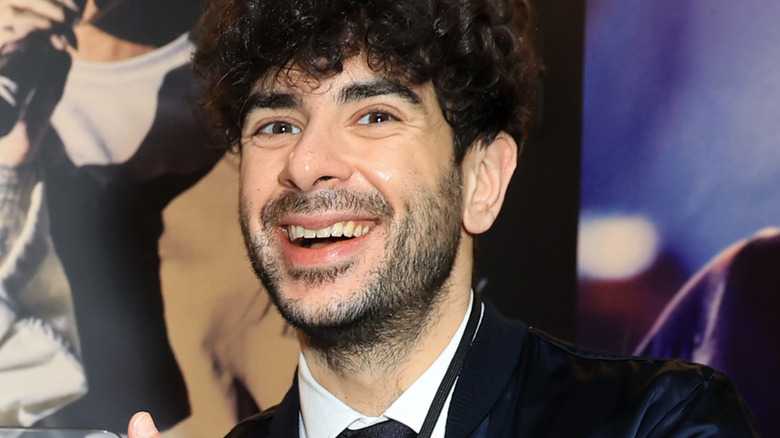 Leon Bennett/Getty Images
The password-required pre-sale for tickets to AEW All In on August 27 at Wembley Stadium started on Tuesday, and quickly made headlines when in excess of 35,000 tickets were reportedly sold, with the number creeping up to 36,000 by the time AEW boss Tony Khan confirmed it on Twitter. On Wednesday, Khan tweeted another update: after 32 hours of pre-sales, the event has passed 43,000 tickets sold, for a gate so far of approximately £4.5 million ($5.7 million U.S.).
With the pre-sale still ongoing, All In has outdrawn every event in WCW history and the bulk of NJPW's Tokyo Dome shows, which max out at around 45,000 with the stage/ramp setup that fans have become accustomed to. The public on-sale day for All In is Friday, May 5. All In has already more than doubled the previous company attendance record holder, the first "AEW Dynamite" Grand Slam at New York City's Arthur Ashe Stadium in September 2021, which drew roughly 19,000 to 20,000 fans.
For a comparison to a similarly scaled stadium show, the earliest numbers we have from WrestleTix for last month's WrestleMania 39 shows 48,000 to 50,000 tickets distributed for each night after the first few days of the general on-sale, so it would not be off-base to say that All In could conceivably do WrestleMania-level numbers at the box office. The Ticketmaster map for All In shows that a minimal stage setup will be used to block off as little of the stadium as possible, meaning that a capacity crowd would presumably be in the 90,000-plus range that the current Wembley Stadium has held for boxing events.