Corey Graves Comments On Carmella's Pregnancy, Is Ready To Welcome New Addition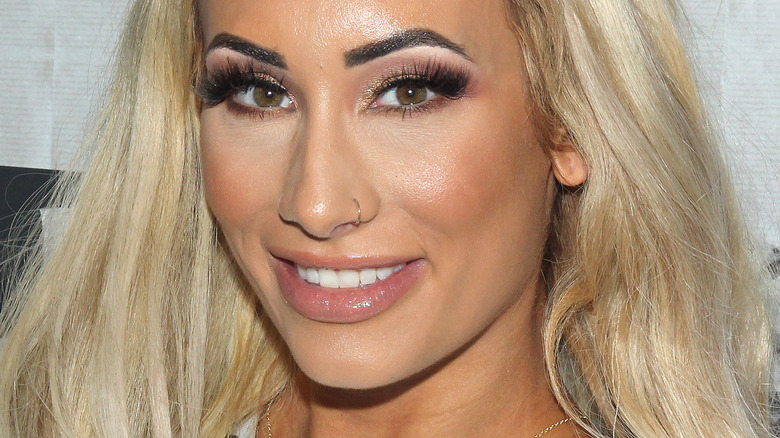 Jim Spellman/Getty Images
Less than two months after she made her on-screen return to WWE, Carmella mysteriously vanished from television, leaving many fans concerned as to why. Earlier this week, that question was finally answered as the former "SmackDown" Women's Champion revealed she was pregnant. The father of the baby is her husband and WWE commentator Corey Graves.
As the two will soon have their first child together, Graves is thrilled to add another member to their household, but admits it was hard to keep it a secret for a while. "I'm glad I can finally stop trying to hide it from everybody," Graves said on WWE's "After The Bell" podcast. "It's been a tough couple of weeks. Everyone asks, 'Hey, where's Carmella? How's Carmella?' She's great. She's just not here, and I'm not allowed to tell you why. So the news is out. Everybody's happy, everybody's healthy...Big things [are] headed our way. I'm a blessed man. I'm a very, very grateful man. I've got a lovely wife. I've got an amazing group of kids who are excited to welcome a new addition."
While the couple is moving forward with obvious excitement, they are also staying very alert for the sake of Carmella's health. Last October, Carmella (real name Leah Van Dale) revealed she had endured a scary situation when doctors discovered she developed an ectopic pregnancy. A month prior, she suffered a miscarriage, so now Graves and herself are keeping a close eye on her current pregnancy symptoms. 
Carmella's due date is slated around November as her child will join the three offspring from Graves' previous marriage.