Arn Anderson On Hitting Shawn Spears With Spinebuster In AEW: 'He Was 200% Gracious'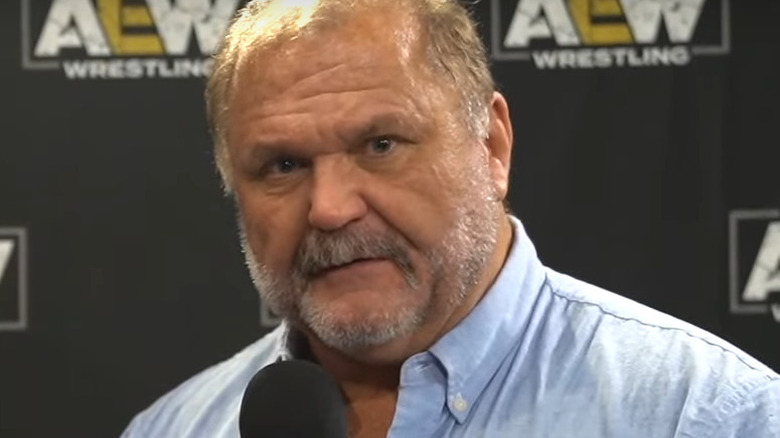 AEW/YouTube
Arn Anderson made his AEW debut at the first All Out in 2019, coming to the aid of Cody Rhodes in his match against Shawn Spears. 
In a recent episode of the "ARN" podcast, Anderson called Spears a "professional" and said he was "gracious" to be on the receiving end of a patented "Double A" spinebuster that night.
With Cody's cornerman, MJF, incapacitated by Spears' manager Tully Blanchard, Anderson made a shocking entrance and dropped Spears with a spinebuster in the middle of the ring. Anderson said it had been decades since he had last hit the move, so he was a little nervous to break it out on pay-per-view.
"And I didn't know Shawn really that well," he explained. "When they moved him up in WWE I had some live event loops with him, but I hadn't known him that long. A year or two, something like that. And he was very, very gracious about it."
The moment received a huge reaction from the live crowd, which Anderson said may have partly been due to the fact that Blanchard -– his former Four Horseman stablemate -– was in Spears' corner.
"When I came down it was like, 'What the hell are they gonna do here, are they going to get back together, or is this a Horsemen deal?'" he added. "I don't think they saw me getting involved on Cody's behalf, so shock value too."
Rhodes had initially invited Anderson, who by 2019 had mostly stepped away from pro wrestling, to check out an AEW show backstage. Impressed by the company's "refreshing" environment, Anderson decided to officially sign with AEW as Rhodes' on-screen advisor.