Kurt Angle Thinks Shawn Stasiak Lacked Confidence To Make It In WWE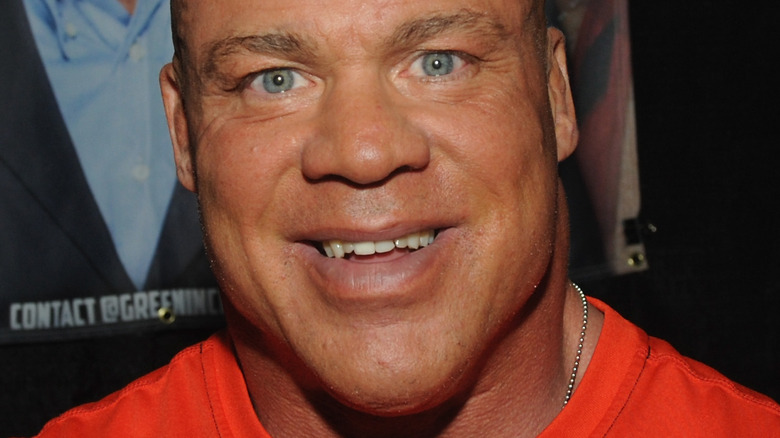 Bobby Bank/Getty Images
When WWE acquired WCW in 2001, big names such as Hulk Hogan, Ric Flair, Bill Goldberg, The Outsiders, and Sting did not immediately make the jump to the Stamford-based promotion, as WWE decided against buying out the lucrative contracts handed out to WCW's biggest stars by the then AOL-Time Warner conglomerate. 
Instead, lesser-known names such as Shawn Stasiak, Sean O'Haire, and Chuck Palumbo — widely regarded as WCW's best young talent prior to the acquisition — arrived in WWE to a lot of hype. Stasiak, in particular, was earmarked as a surefire future main eventer, especially due to his family lineage, impressive physique, and previous WWE exposure. However, Stasiak lasted in WWE for less than two years before requesting his release from the company in September 2002.
On a recent episode of "The Kurt Angle Show," Kurt Angle watched an old tape of a match he had against Stasiak in WWE's developmental system in 1998 — long before Stasiak joined WCW and Angle joined WWE. As he watched the match, Angle explained why self-confidence issues cost the second-generation wrestler a future in the business.
"Shawn — very talented," Angle said. "He was one of the most talented wrestlers in that camp. He had all the tools, man. He had the look, the promo, and the wrestling. Sadly, he didn't have the confidence. That really crushed him. If he had more confidence, he'd have been a huge star in WWE."
'I can't get called up now. I'm getting my hair done'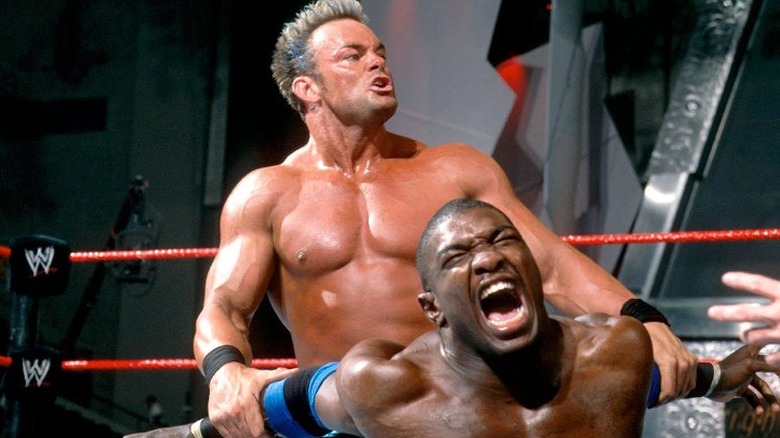 WWE
Nearly two years after they rubbed shoulders in WWE's developmental system, Kurt Angle and Shawn Stasiak renewed their rivalry at Survivor Series 1999, in a match that was dubbed as Angle's in-ring debut. Stasiak was presented as an enhancement talent preparing to put over the debuting Olympian, and Angle felt he and Stasiak put on a stellar match.
"We had a really good match," Angle recalled. "Vince [McMahon] kinda chimed in and asked me to cut a promo halfway through the match, which scared the s–t out of me."
Angle then recounted another story involving Stasiak that he believes also contributed to Stasiak prematurely quitting the business.
"I hate to say this, but I have to let the cat out of the bag," Angle began. "Shawn was losing his hair, just as I was. He decided to get a hair replacement and it was a week before he was called up [for his first WWE stint in 1998]. He called WWE and says, 'I can't get called up now. I'm getting my hair done.' 
"That was part of the reason why Shawn was painted in the corner, as someone who was not a team player. WWE was like, 'We want you to debut right now.' And he made them wait for like two months. I wonder if that incident affected his [career] a little bit."
Upon returning to WWE in 2001, Stasiak was placed in high-profile matches against the likes of The Rock and Chris Jericho as part of the "Invasion" storyline. His momentum quickly halted once WWE pulled the plug on the storyline. Stasiak debuted a new character that saw him claim to be a visitor from Planet Stasiask. The character never took off and he was relegated to the chase for the Hardcore Championship until his eventual departure.