Surviving For 35 Years: The History Of WWE Survivor Series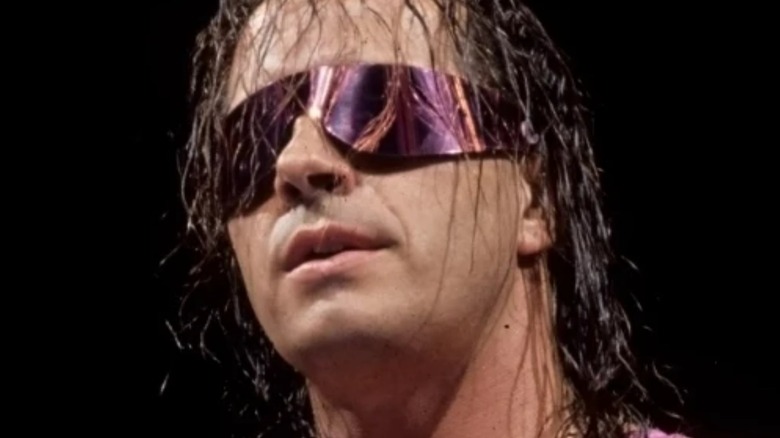 WWE
In the modern day, WWE doesn't let a day go to waste on its pay-per-view — or premium live event — calendar. From main roster events like Extreme Rules and Money in the Bank to "WWE NXT" efforts like Stand & Deliver and In Your House, there are more special showcases for talent under the WWE umbrella to display their skills than ever before. However, it wasn't always this way. Going back to the 1980s, the then-WWF's pay-per-view offerings were few and far between, but as the decade approached its conclusion, the juggernaut promotion steadily began to up its PPV output to great effect.
The '80s saw what would become the WWE's biggest events come to fruition. First and foremost is WrestleMania, which has long stood as the company's equivalent to the National Football League's Super Bowl. SummerSlam and the Royal Rumble have also become staples of the PPV schedule — especially the latter, since it kicks off the road to WrestleMania and provides the ever-unpredictable Royal Rumble match. Then there's Survivor Series: a November fixture dating back to 1987 when it introduced itself over half a year after the monumentally successful WrestleMania III.
Over the decades, Survivor Series has become a major component of WWE programming that many fans have come to look forward to each and every year. With the 35th event on the horizon, here's a look back at the history of this annual spectacle.
A dream team showcase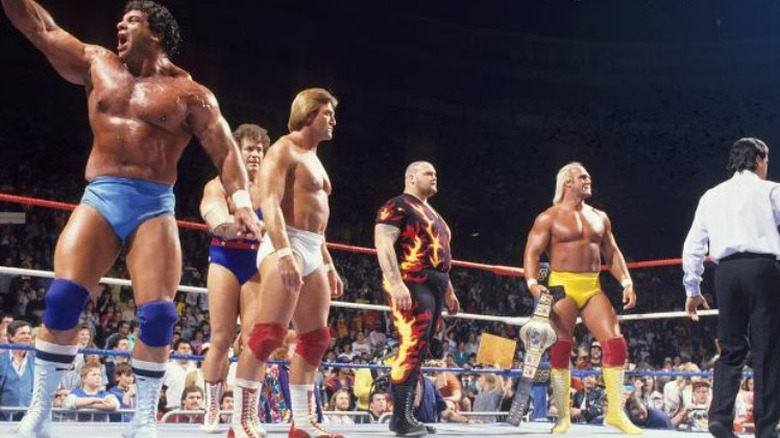 WWE
The bitter feud between WWF Champion Hulk Hogan and André the Giant came to a head at WrestleMania III, where "The Hulkster" famously bodyslammed his opponent and defended his title. However, this was far from the end of their program. The two future legends continued to clash throughout 1987, but little did fans realize they'd get to see them battle on pay-per-view again before the year was out. They'd square off at the first-annual Survivor Series event not in a standard one-on-one match, but a massive elimination tag team match unlike anything WWF fans had seen before.
Hogan joined forces with Bam Bam Bigelow, Ken Patera, "Mr. Wonderful" Paul Orndorff, and Don Muraco in a losing effort against André, Butch Reed, King Kong Bundy, One Man Gang and "Ravishing "Rick Rude. This was the fourth huge tag match of the evening, as the match type was Survivor Series' entire gimmick. 
The event was originally designed to compile dream teams of good guys and bad guys so they could compete against each other. With the turn of the new millennium, singles matches have become more abundant at Survivor Series than traditional four-on-four or five-on-five tag matches, but you can still expect to see at least one or two every year.
It was originally a Thanksgiving Tradition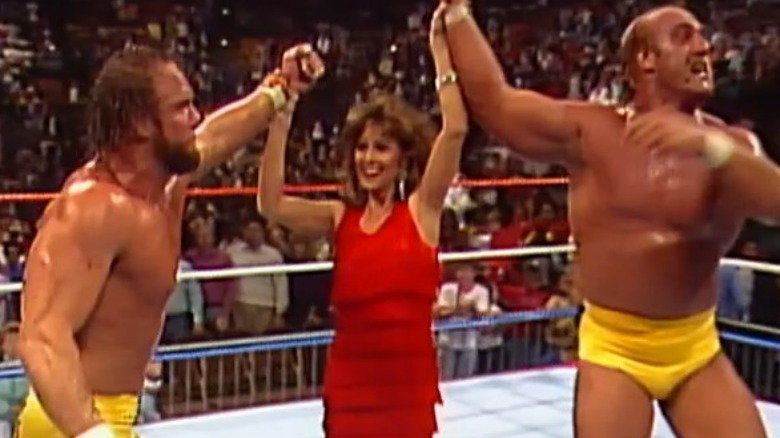 WWE
For the first few years of its existence on the pay-per-view slate, Survivor Series didn't go through many serious changes. Every year, some of the most popular heroes would band together to take out dastardly coalitions of villains to mixed results. Their chosen battleground? Thanksgiving night, so WWF fans could watch the likes of Hulk Hogan, "Macho Man" Randy Savage, Bret "The Hitman" Hart, and more duke it out on television while giving thanks and enjoying a nice meal with family. However, among the numerous changes the 1990s brought to the WWF brand, it changed Survivor Series' placement on the calendar.
The 1991 edition of Survivor Series, which saw Hogan clash with the Undertaker in the first-ever one-on-one main-event in the PPV's history, took place on November 27 — the day before Thanksgiving. The next three Survivor Series installments kept with this trend of occurring on Thanksgiving Eve, but Survivor Series 1995 set the tone for all that have come after it. It took place at the USAir Arena in Landover, Maryland on November 19, making it the first Survivor Series to reach the airwaves on a Sunday evening. To date, WWE has yet to try putting the event back to its original Thanksgiving slot.
Of all the tweaks Survivor Series has seen over time, this one makes a lot of sense. Thanksgiving is a time for family and friends, not getting paid to wrestle. Besides, those on the WWE roster who celebrate are likely glad they don't have to spend the holiday between the ropes. Nevertheless, WWE has maintained its branding as a Thanksgiving tradition.
What's in the egg?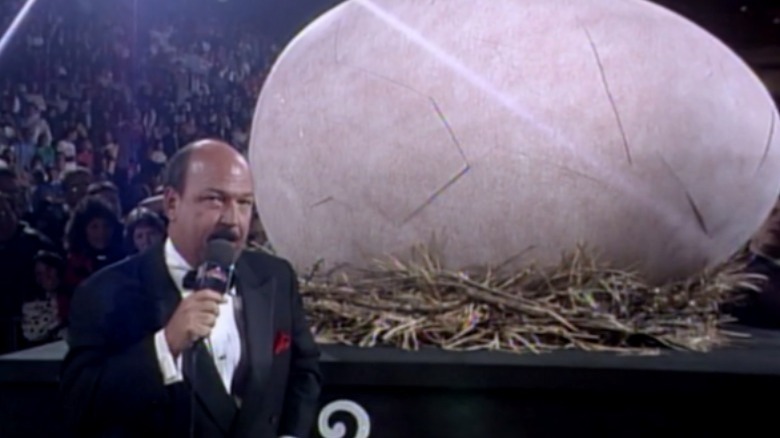 WWE
The 1990 Survivor Series event remains noteworthy for a few reasons. While it's become more infamous than famous, there's no denying the memorable nature of the giant egg that sat at ringside for much of the event. Periodically throughout the broadcast, "Mean" Gene Okerlund would check up on it to give audiences at home and in attendance updates before it finally hatched to reveal the one and only Gobbledy Gooker. The giant, fun-loving turkey was portrayed by none other than Héctor Guerrero — son of Gory, brother of Eddie, and uncle of Chavo Jr.
After Okerlund attempted to communicate with the "bird," it made its way to the ring, where it and the legendary interviewer danced around for a bit. All the while, the majority of fans in attendance either sat in silence at the strange sight or yawned. According to Guerrero himself (via Sports Illustrated), the gimmick was aimed at younger fans, but if they were supporting him, it was hard to tell with all of the booing going on. Unsurprisingly, the Gooker didn't last long on WWF television, making only a handful more appearances before the minds behind it decided to give it a rest.
Even though the Gobbledy Gooker was as lame as early 1990s WWF ideas could get, the character is synonymous with Survivor Series and, somehow, has built a sizeable fanbase for itself. It has returned to WWE TV more than a few times, even winning the now-defunct WWE 24/7 Championship. At the same time, based on the initial response to it that November night in 1990, the Undertaker has every reason to be glad he wasn't the one to burst out of the egg.
The perfect place to make a first impression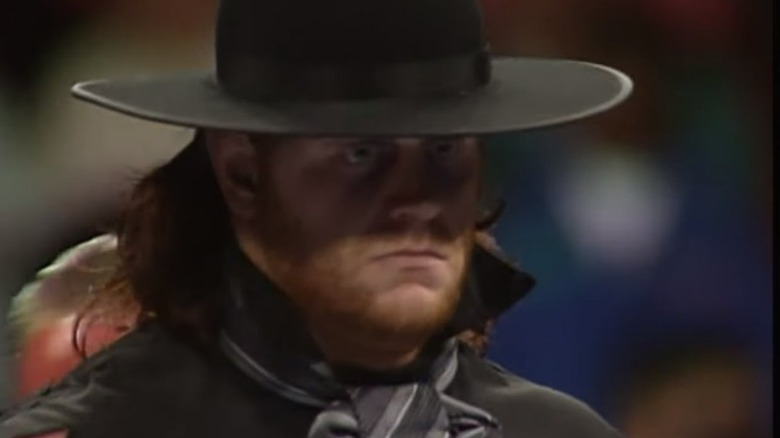 WWE
As the old saying goes, you only get one chance to make a good first impression, and that's especially true in the world of professional wrestling. From the moment fans first lay eyes on you, it's up to you to make sure they don't write you off right out of the gate. To make a big splash in the WWE, specifically, many folks have chosen to make their grand introductions at Survivor Series. The Undertaker was the very first, making his debut at the 1990 event and paving the way for Rocky Maivia — later known as the Rock — and Kurt Angle to do the same at the 1996 and 1999 installments, respectively.
Heading into the new millennium, more future stars would use Survivor Series as a platform to make an immediate impact in the WWE. Next up is Jazz, who made a name for herself in Extreme Championship Wrestling before arriving in the then-WWF at Survivor Series 2001. 11 years later, Dean Ambrose, Seth Rollins, and Roman Reigns, collectively known as the Shield, would make an immediate impact at Survivor Series by practically handing CM Punk the victory in his WWE Championship match against Ryback and John Cena. Two years after that, wrestling icon Sting made his long-overdue WWE debut, setting up a feud with Triple H.
As Survivor Series continues its lengthy reign as one of WWE's main PPV events, it stands to reason that even more future main-event talent will make their first main roster appearances there. For their sake, one can only hope that they do so as successfully as those that came before them. 
That Bret Hart vs. Shawn Michaels match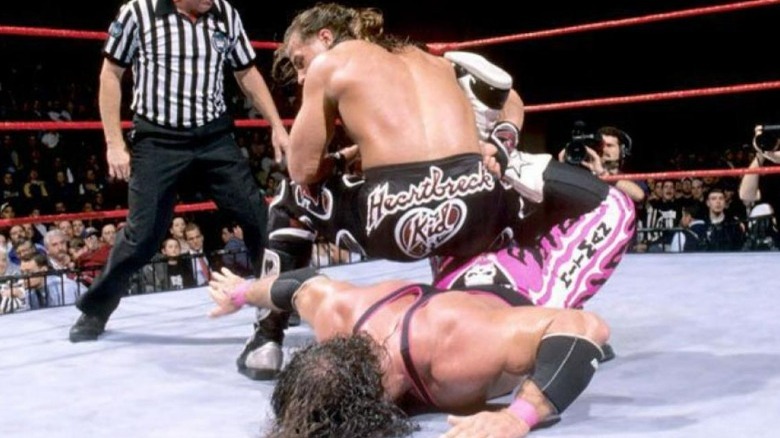 WWE
Of course, no discussion of Survivor Series history is complete without going back to Montreal, Quebec, Canada in the year 1997. For context, at this point in the WWF timeline, Bret "The Hitman" Hart and "The Heartbreak Kid" Shawn Michaels were far from friendly. They were on good terms earlier in the decade, even putting on an incredible 60-minute iron man match at WrestleMania XII. As the WWF's Attitude Era picked up steam, though, their personal relationship deteriorated. Both men desired to be the absolute best, their personalities clashed, and they wouldn't let a shred of their pride go for the benefit of the other (via Bleacher Report).
With Survivor Series 1997 on the horizon, Hart was on his way out of the WWF in favor of a lucrative WCW contract. He was WWF Champion, but he had no desire to drop the title to Michaels at the pay-per-view. Thus, it was decided that the match would end in a double disqualification so Hart could relinquish the championship on the following night's "Raw." However, during a spot that was supposed to see Hart escape Michaels' use of his signature Sharpshooter submission hold, Vince McMahon came down to ringside and urged referee Earl Hebner to call for the bell. Michaels was awarded the title and quickly headed backstage as Hart looked on in disbelief.
What has become known as the Montreal Screwjob and its aftermath have been discussed online ad nauseam and analyzed from all angles in the years since it all went down. Still, the 1997 incident is still a huge piece of the lore behind Survivor Series, even if it endures as one of the most infamous moments in wrestling history. Also, for those curious, Hebner did indeed walk away with a nice little bonus for going along with McMahon's plan.
Survivor Series 1998: The Deadly Game tournament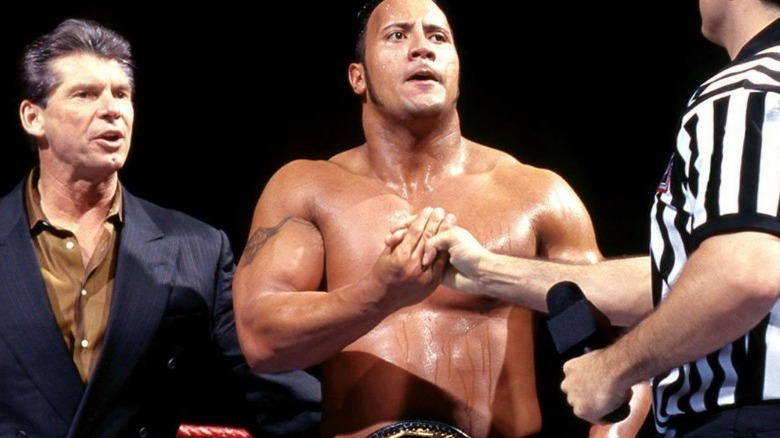 WWE
As we've established, Survivor Series in its purest form puts a strong focus on tag team matches. That said, they're not all that it has offered WWE audiences in the decades since its inception. Singles contests have also taken center-stage at the event, and in the late 1990s, fans would see something at Survivor Series that they'd never seen during a previous incarnation: zero traditional Survivor Series tag team matches. Instead, the 1998 event hosted the Deadly Game tournament, which gave way for one of the most pivotal moments in the history of the Attitude Era and WWE as a whole.
Following September's Breakdown: In Your House, where the Undertaker and Kane simultaneously pinned "Stone Cold" Steve Austin for his WWF Championship, the title was vacated. The Deadly Game tournament was then created for Survivor Series to determine a new champion. The aforementioned three athletes, as well as names ranging from Ken Shamrock to Big Boss Man, participated, with the Rock and Mankind squaring off in the finals. Sadly, Mankind wouldn't take home the gold thanks to the man he looked up to like a father, Vince McMahon, whom the Rock shockingly aligned with to become champion.
This turn of events (a recreation of the previous year's Montreal Screwjob) made Mankind one of the WWF's most sympathetic babyfaces and the Rock its most dastardly heel. They'd battle it out for months after with the WWF Championship in the balance, and with each passing match, they'd become even bigger stars. Throughout the entirety of this era-defining feud, WWF fans simply couldn't get enough. And to think, it all started in the finals of the Deadly Game tournament under the bright lights of Survivor Series 1998.
Enter the Elimination Chamber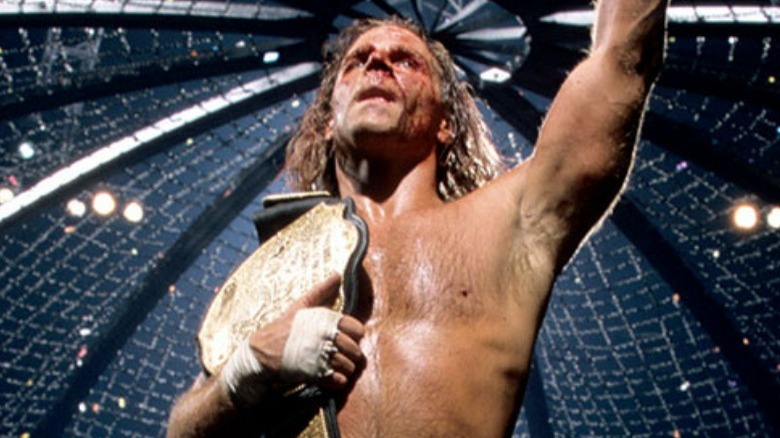 WWE
In the wake of the Deadly Game tournament at Survivor Series 1998, the next iterations of the event went back to being tag team match-centric. As the folks in WWE tend to do every now and again, they threw us a curveball in 2002 by once again putting on a Survivor Series show completely free of four-on-four or five-on-five tag matches. Instead, fans were treated to a brand new style of match known as the Elimination Chamber, as announced by then-"Raw" authority figure Eric Bischoff ahead of time. Just like that, Survivor Series 2002 quickly became the talk of the wrestling world as fans speculated about this intriguing new match type.
When the night of November 17 finally arrived, WWE faithful got a good look at the massive, imposing chain-link structure named the Elimination Chamber. World Heavyweight Champion Triple H, Shawn Michaels, Kane, Rob Van Dam, Booker T, and Chris Jericho entered the sprawling cage, determined to become the new champion and escape with their lives. "The Game" and RVD kicked off the match, and one by one, the remaining four competitors trickled in. The chain walls, steel flooring, and glass pods showed none of them mercy, with Michaels narrowly leaving as World Heavyweight Champion on his own two feet.
Between the flip-flopped entrant orders and Triple H's throat injury (that RVD still feels horrible about) early on, the first Elimination Chamber match could've been a disaster. Miraculously, it wasn't, which is a testament to the skill of all six men involved. "Satan's Structure" is now a fan favorite that has produced numerous unforgettable bouts over the years and earned a premium live event all its own. Nevertheless, it'll always be an integral part of Survivor Series history.
From the all-star show to a brand war battlefield
WWE
The WWF roster got a bit bloated in 2001, with an influx of former WCW and ECW talent joining the locker room when both companies went under. Not everyone stuck around for the long haul, but many did, so the decision was made to split the roster in half in 2002. "Raw" and "SmackDown" would become separate brands for the first time, with individual talent pools, championships, and pay-per-view events. As far as PPVs go, there were some exceptions to this rule such as Survivor Series, which went from a mere all-star talent showcase to a battleground for "Raw" and "SmackDown" to wage war for brand supremacy.
During the initial brand split, Survivor Series only featured head-to-head "Raw" versus "SmackDown" matches a handful of times before it came to an end in the summer of 2011. Come 2016, WWE decided to reintroduce it, and when it did, it took the war between "Raw" and "SmackDown" to the next level. Interpromotional matches became a major selling point of the event, with brand versus brand tag team and champion versus champion matches taking the spotlight. To really shake things up, when "ECW" was a weekly series under the WWE banner from 2006 to 2009, it too got in on the fun. "NXT" did the same in 2019, tearing through WWE's main roster.
At the end of the day, it's no secret that "Raw" and "SmackDown" are under the same umbrella of WWE. With that in mind, it takes a bit of the fun away from their attempts to one-up each other and makes it hard to buy into their battles. Still, if you can suspend your disbelief a bit (a shocking thing to do while watching wrestling), angles like these can make Survivor Series a bit more fun to watch.
It was almost wiped from the pay-per-view calendar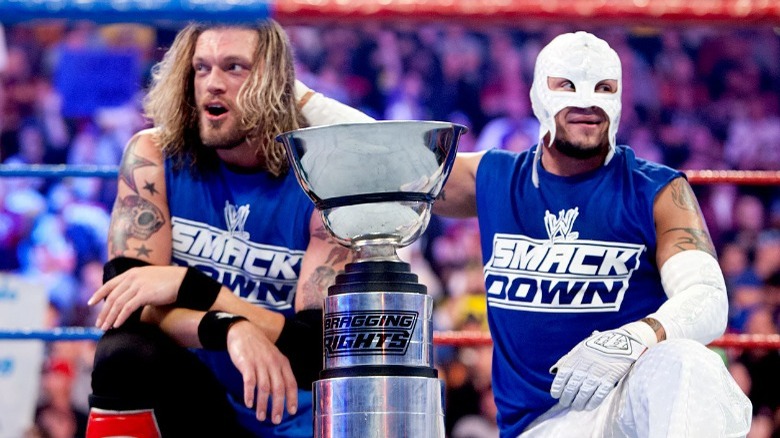 WWE
For 2009, WWE made some huge changes to its pay-per-view slate. Gone were past favorites such as Unforgiven, No Mercy, and Armageddon to make room for a bunch of new events. For the most part, these new PPV offerings focused on specific match stipulations. For instance, the likes of Hell in a Cell, Extreme Rules, and TLC: Tables, Ladders & Chairs used the match types they're named after as the centerpieces of their respective cards. Then there was Bragging Rights, which pit the superstars of "Raw" and "SmackDown" in a series of matches against each other in the name of brand supremacy.
If that description sounds familiar to you, that's because Bragging Rights was basically Survivor Series just with the brand warfare aspect pushed more heavily. As it turns out, this wasn't some kind of oversight on WWE's part, since there were actually plans in place for Bragging Rights to replace Survivor Series going forward. "We think that Survivor Series is obsolete, as far as that title is concerned. It was something that worked many, many years ago, in terms of a creative standpoint, various teams competing," Vince McMahon said during a 2009 WWE conference call, noting that Survivor Series buyrates had dropped to a worrisome degree (via Bleacher Report).
Thankfully, for whatever the reason may be, WWE didn't end up ditching Survivor Series after all. In fact, Bragging Rights is the event that wound up on the cutting room floor, disappearing from the promotion's event calendar after the second and last edition in 2010. Sure, Survivor Series might not be everyone's favorite WWE event, but it's a classic nonetheless. Besides, if the show wasn't selling, why try to replace it with basically the same one?
Survivor Series entered the WWE Thunderdome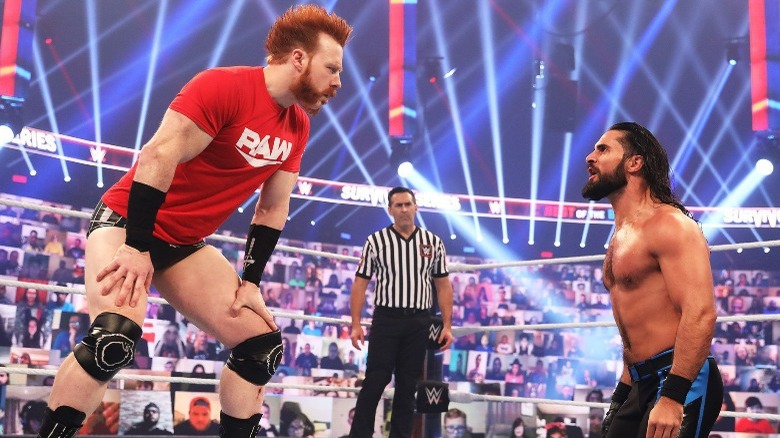 WWE
To say that the COVID-19 pandemic put the entire world into a tailspin would be an understatement. Businesses closed, folks struggled to accommodate to at-home work, and something as simple as a hug or a handshake was met with health-conscious hesitation. In the world of professional wrestling, it became impossible for live audiences to pack into arenas and enjoy their favorite form of entertainment. As the old showbusiness adage goes, though, the show must go on, and the folks in WWE took that to heart. Week in and week out, the roster continued to provide fans with new "Raw" and "SmackDown" installments — albeit without a live crowd.
In order to make WWE programming more lively, the company introduced the WWE ThunderDome during the lockdown period. This filled the arena with screens containing virtual fans from across the world, as if to simulate a live audience. Before the world returned to relative normalcy and it became safe enough to return to WWE events in the flesh, one Survivor Series installment took place in front of the ThunderDome crowd. The 2020 event featured "Raw" versus "SmackDown" champion versus champion matches as well as tag team clashes between members of the two brands. It also hosted the Undertaker's WWE retirement ceremony.
Say what you will about the WWE ThunderDome as a concept, but at least those behind the scenes were making some kind of effort to make the product feel like nothing had changed. One can only hope it remains a relic of the past and that we don't have to endure another event of any kind — much less another Survivor Series — without a physical crowd in attendance due to a public health crisis.
This means War(Games)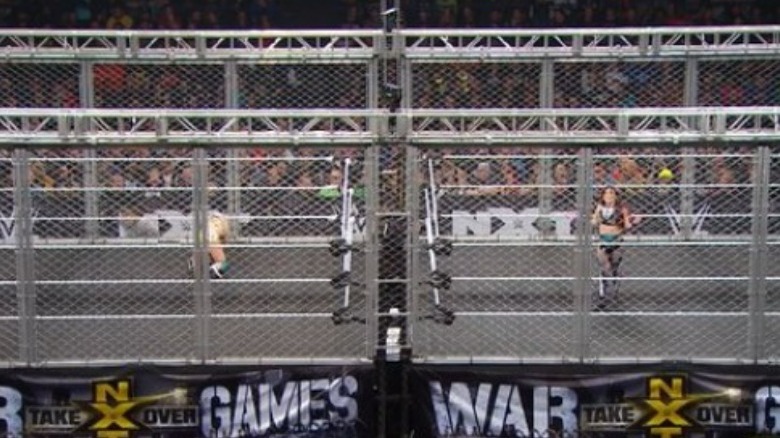 WWE
Created by the late, great "American Dream" Dusty Rhodes in 1987, WarGames was a staple of Jim Crockett Promotions and later WCW. The match type sees two rings surrounded by a giant steel cage, where, outside of a couple exceptions, two teams of four or five battle it out under elimination rules. Numerous ring icons stepped into the imposing WarGames structure and countless iconic matches took place within it — that is, until WCW closed its doors in 2001. With that, WarGames disappeared from the mainstream wrestling landscape until 2017 when it returned for "NXT TakeOver: WarGames."
In the years following the "NXT" event, the brand would continue to feature the occasional WarGames match to great success. It allowed the company's rising stars to get innovative while uniting generations of wrestling fans in their love for the WarGames concept. With that in mind, it's odd that WWE hasn't elected to bring the WCW tradition to the "Raw" and "SmackDown" rosters. Evidently, some within the company must've had a similar thought, since Survivor Series 2022 will serve as the main roster introduction of WarGames. To sweeten the deal, two massive WarGames matches will take place at the event.
Bianca Belair, Alexa Bliss, Asuka, Michin (formerly Mia Yim), and an unannounced partner will face Damage CTRL (Bayley, Dakota Kai, and Iyo Sky), Nikki Cross, and Rhea Ripley in one WarGames encounter, while The Bloodline (Roman Reigns, Solo Sikoa, Sami Zayn, Jey and Jimmy Uso) will compete against the Brawling Brutes (Sheamus, Ridge Holland, and Butch), Drew McIntyre, and Kevin Owens. Suffice to say, Survivor Series 2022 will be a premium live event for the ages.
The second-oldest of the 'Big Four'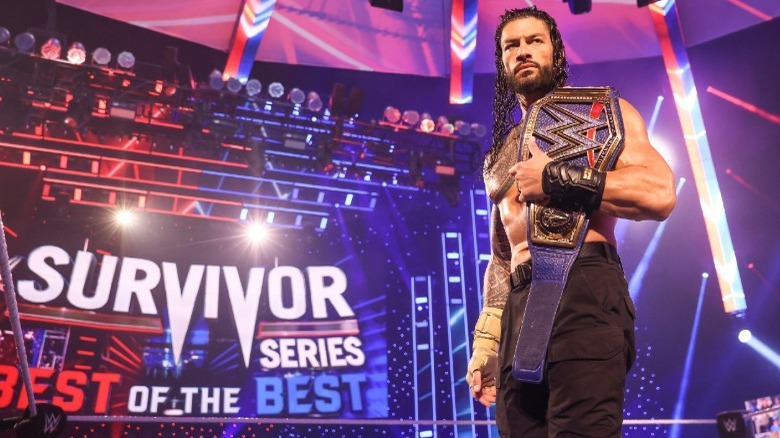 WWE
The WWE premium live event calendar is a packed one, to say the least. For decades now, the company has made sure to present fans with at least one — if not more — every month. That's certainly a lot of wrestling to keep up with, especially when you add weekly shows on top. Chances are, unless you're a die-hard WWE fan, you might miss a few throughout the year either on purpose or by accident. Be that as it may, there are a small handful of special events that the majority of WWE fans make a point of watching live each and every year. They've collectively become known as "The Big Four."
To put it simply, "The Big Four" are WWE's longest-running and most recognizable events: WrestleMania, SummerSlam, Royal Rumble, and Survivor Series. Of the bunch, WrestleMania is the oldest, having began its reign atop the WWE event slate way back in 1985. Some may argue that in recent years, SummerSlam and Royal Rumble have been treated as more important events by fans and WWE itself, but neither can claim to be the second oldest. That spot belongs to Survivor Series since it kicked off its run in 1987, beating out SummerSlam and Royal Rumble by a year.
Throughout its years, Survivor Series has ebbed and flowed when it comes to its relevance on WWE television. Some love it, some don't much care for it, but there's no denying the history behind it. If nothing else, through all of its trials, tribulations, and controversies, Survivor Series has lived up to its resilient name.