WWE NXT's Tiffany Stratton Says Charlotte Flair Inspired Her To Get Into Pro Wrestling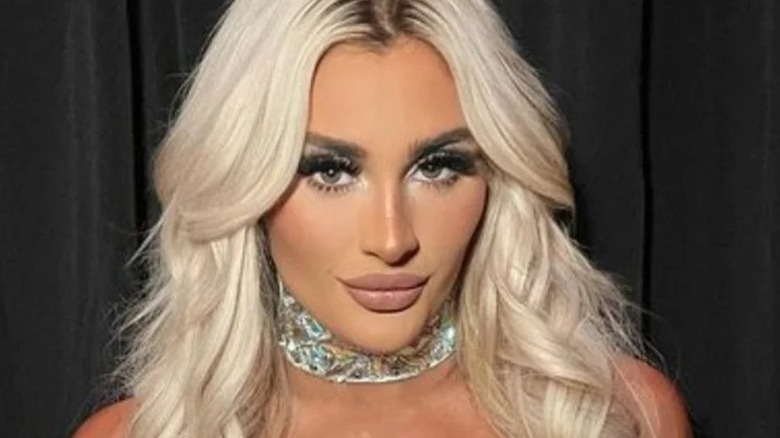 WWE
It'd be hard to name another female wrestler who has learned the business as quickly as Tiffany Stratton. Within two years of training to be a pro wrestler, Stratton has already established herself as one of the top performers on the "WWE NXT" brand. 
In fact, there were murmurs of Stratton being called up to WWE's main roster at the recently-concluded Draft — another sign of the former gymnast wowing her coaches at WWE's Performance Center. Stratton — who competed at national-level Gymnastics meets before crossing over to pro wrestling — has credited Charlotte Flair, another former gymnast, for inspiring her to join the business.
"One day, I was watching TV with my family," Stratton recalled in an interview with "Stick To Wrestling" podcast. "We're flipping through the channels and come across wrestling — I believe it was Friday Night SmackDown. It was Charlotte Flair that I saw on the TV screen. My mother was like, 'You can totally do that.' 
"I was taken aback a little bit because I saw Charlotte, someone who was jacked and could do all these cool moves. She was a gymnast like I was. She's blonde and gorgeous. I just connected with it right off the bat — because I saw a little bit of me in Charlotte."
Despite being taken by Charlotte, Stratton was hesitant to pursue the business right away. At the time, she still had her hands full with gymnastics, bodybuilding, CrossFit, and her other passions. Eventually, she contacted Greg Gagne, who helped her get a tryout with WWE. Gagne also trained Stratton on wrestling fundamentals before she got accepted at the WWE PC.
"The rest is history," Stratton added.
So, does Stratton dream of a future match against the woman who inspired her journey? "For sure. She [Charlotte] is someone I would have a match with," Stratton concluded.