Rhea Ripley And Dominik Mysterio Didn't Talk Much Before Stumbling Into 'Mami' Story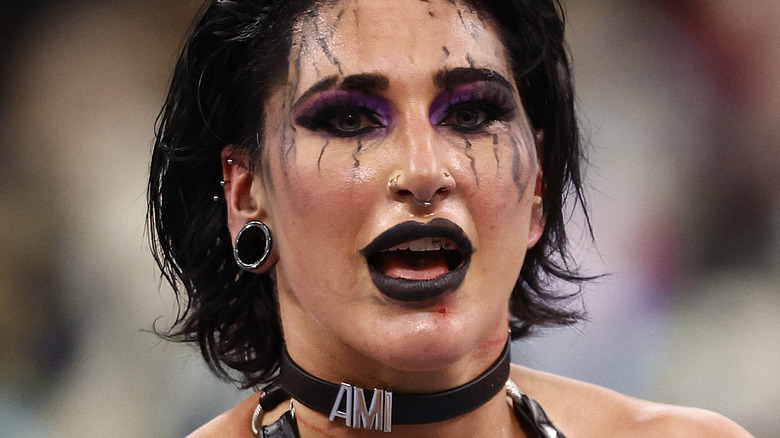 Ronald Martinez/Getty Images
Rhea Ripley's rise this past year has been nothing short of meteoric. From her Royal Rumble win to her championship victory over Charlotte Flair at WrestleMania 39, Ripley has been ticking all the boxes to become a bonafide main eventer. But, the start of her current work as "Mami" alongside Dominik Mysterio had an innocuous start. On "Cheap Heat," Ripley broke down how "Mami" came to be.
"I had a few weeks off and I was like, 'I know I'm coming back soon' and I got told that I was coming back when it was Rey's anniversary. [...] I was like, 'You know what, might as well come back with a bang' and I ordered an Eddie Guerrero shirt," she said, "I wore it and the internet exploded, people went wild, started calling me Papi and all of that fun stuff. I sort of just kept running with it. Eventually, I was like, 'Yo, we should make some more shirts' but they were like, 'Maybe we'll change it to Mami."' The other key component of her "Mami" character, an on-screen pairing with Dominik, fell into place shortly after The Judgement Day's feud with the Mysterios began. But before his involvement with the storyline, Ripley says she didn't know him all that well.
"I didn't really get to know him," Ripley explained. "Especially, because I was more just in the women's division, where like now, I get to experience and make friends with the guys as well, because I'm actually working with them, but our friendship just sort of bloomed. Then you know, I ended up beating him up a couple times and choking him out with my legs and it's where this romance story started."