Eric Bischoff Calls AEW 'A Well-Funded Hobby,' Says It's Capitalizing On WWE's Success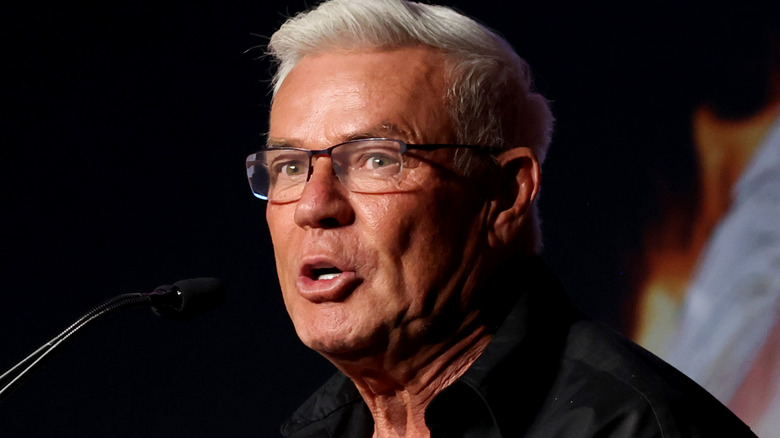 Jason Kempin/Getty Images
It's no secret that AEW CEO Tony Khan is a long-time wrestling fan, and his love of wrestling led him to launch AEW in 2019. Equally, it's no secret that Khan's father donated millions to start AEW. On a recent episode of Strictly Business, WWE Hall of Famer and former WCW President Eric Bishoff called AEW Khan's "hobby" when compared to smaller companies.
"Tony Khan had one unique advantage that MLW doesn't have, or anybody else — he had a hundred million dollars. He's got an unlimited budget. He's not accountable. It's a really, really, really well-funded hobby," he said. "And that's not a negative. [...] It's not a "do or die" situation for Tony Khan. This is his passion."
The conversation on AEW's advantages over promotions like MLW came up while discussing AEW's anticipated TV deal with Warner Bros. Discovery. Though no figures are concrete for their new deal, rumors have shot sky-high. The announcement of the deal is expected to come on Wednesday. However, Bischoff doesn't see the deal as a game-changer for the wrestling industry.
"AEW isn't contributing. AEW is taking advantage of the success of a WWE, for example. It is because there is this company called WWE that is worth nine billion dollars that makes executives in the industry go, 'Hm, we might be able to be worth nine billion dollars, but we could be worth a lot because the market is here.' WWE has established a worldwide market for this product, more than anybody else," he said. "If WWE would have been in the tank four years ago, and would have been flatlining and not selling out arenas, and just stumbling through pay-per-views, do you think Turner would have jumped on AEW? I don't."
If you use any quotes from this article, please credit Strictly Business with an h/t to Wrestling INC. for the transcription.