Kurt Angle Knew That Doing Comedy Bits In WWE Wouldn't Damage His Reputation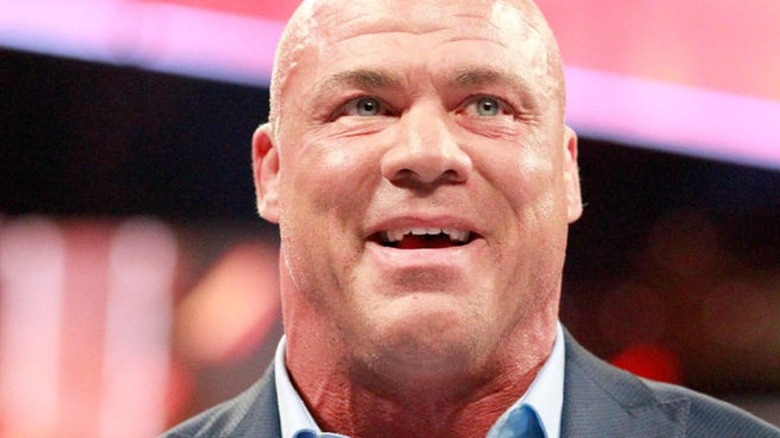 WWE
Kurt Angle is widely regarded as one of the best in-ring competitors in WWE history, with his athleticism and intensity helping him stand out amongst the crowd when he debuted in WWE back in 1999. However, the Olympic Gold Medalist was far from a one-trick pony, as he would also become known for his strong comedic timing in backstages segments and promos over the years. For some wrestlers, leaning into the comedic side of wrestling could be a bad decision for their careers, but for Angle, the comedic bits made for a good mix of serious and silly in his opinion.
Angle spoke on a recent episode of Stories with Briscoe and Bradshaw about his ability to do comedy-oriented work early on in his career. "Vince wanted me to do these funny things, but it didn't really hurt me because of my background," Kurt explained. "To the fans, I could do that kind of stuff because I was still a badass in real life."
Angle continued, saying that the comedic segments he did were often the most fun he had during his wrestling career. "I had so much fun wrestling back then... Every week I was like a kid in a candy store. I couldn't wait to see what I was gonna do next!" Angle recalled.
Unfortunately, the fun couldn't last forever, with Kurt doing less comedy stuff as the Ruthless Aggression Era got underway. Regardless of that, however, the toll that wrestling took on Angle over the years began to affect his enjoyment of his craft over the years. "Once I started getting injured and I got hooked on the painkillers, that's when the fun started to end," Angel admitted.