Chavo Guerrero Recalls Eddie Guerrero Being Ready For A Real Fight With Brock Lesnar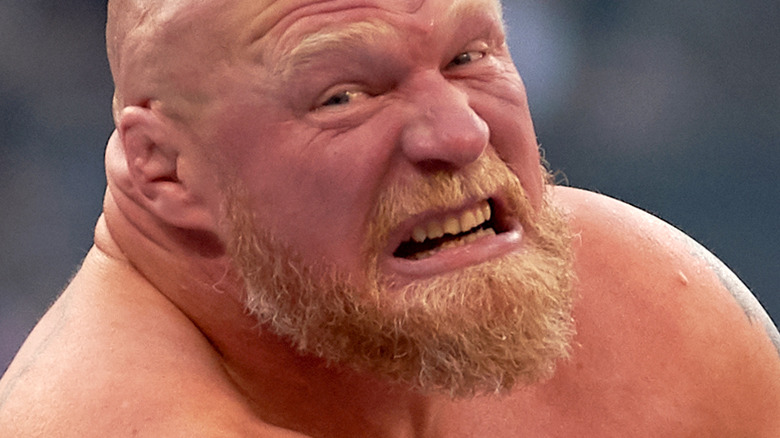 Unique Nicole/Getty Images
When two old heads of the business get nostalgic lamenting what pro wrestling used to be, they're almost obligated to take listeners behind the curtain. That's exactly what happened on a recent episode of "The Undisputed Podcast," as Bobby Fish and Chavo Guerrero went on a "this generation is soft" rant while comparing eras. In doing so, Guerrero reiterated several times that he's happy about where the business has gone, from a fiscal perspective, but is equally saddened that a modern-day wrestling show resembles "play wrestling" and struggles to get viewers to suspend their disbelief. During the conversation, Guerrero recounted a backstage altercation between his uncle, Eddie Guerrero, and Brock Lesnar, which came about after Lesnar got overly physical with Eddie during a match in the lead-up to their championship bout at No Way Out 2004.
"Brock is such a strong guy, people don't really understand how strong he is," Chavo said. "After the match, Eddie was pissed because Brock stiffed him a bunch of times, that Eddie felt. Brock was working, but he was working so hard. 
"Eddie pulls him into his dressing room and he's like, 'Brock! Get in here!' They get into the dressing room and I'm like, 'Am I going to have to open this door and help Eddie fight Brock?' When they got out of there, they had straightened it out, and I remember Brock looking at me and going, 'You know I was going to beat up Eddie in the ring, right?'"
'I've got to get into that Black Tiger mode'
According to Chavo, Eddie began to have doubts if Lesnar would truly put him over at No Way Out, which is why Eddie went into the title match with a different mindset.
"Eddie came to fight," Chavo recalled. "He was ready to die with honor [laughs]. He was like, 'You never know what's gonna happen out there.'"
The match ended up going as planned, but Chavo says Eddie was always prepared for situations where opponents began "shooting" by channeling his inner Black Tiger. Eddie portrayed the character of Black Tiger II in Japan in the early 1990s, a persona that he would tap into at various points of his career. Chavo believes the near-shoot style wrestling in Japan toughed up Eddie to the point where he was already ready to strike back at wrestlers who got too physical.
"Eddie always held onto that Black Tiger character," Chavo said. "Even when we weren't tagging anymore, and he had a match against a big and strong guy, he'd be like, 'I've got to get into that Black Tiger mode.' I'd hype him as well, 'Come on, let's go!' And then he'd go into the ring [with that mindset]. He'd have that stone face, he'd be locked in."