Mick Foley Talks Taking Over WWE Commissioner Role From Shawn Michaels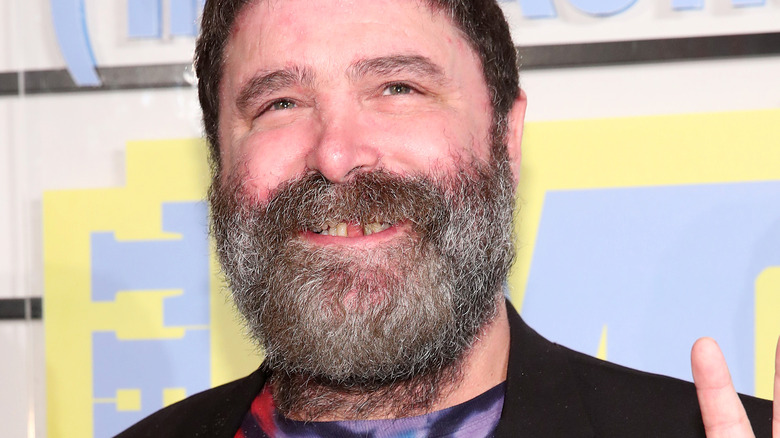 Cindy Ord/Getty Images
Mick Foley has performed in a variety of roles for WWE, even acting as on-screen Commissioner at one point — albeit briefly — in 2000. During this period, Foley wasn't wrestling, but wanted to find ways to create on-screen authority figures that weren't solely McMahons. During a "Foley Is Pod" Q&A, the WWE Hall of Famer shed some light on everything that went into taking over the role previously performed by Shawn Michaels, who wasn't on television often during his stint as Commissioner
"Well at the time, if you remember, it wasn't as if he was giving up much," Foley suggested when asked how HBK felt about surrendering the role. "Because he wasn't really on the show ... At that time, Shawn was getting into some things, you know, Shawn's very religious. He had some projects. I think he just wanted to be there to be a dad while his boy grew up."
Foley, on the other hand, feuded with multiple superstars as Commissioner, including Christian, Edge, Kurt Angle, and Vince McMahon himself. So at the end of the day, it wasn't as if he was taking the position from Michaels. Instead, he was given the opportunity to do more within the role itself. "It was not a big issue at all," Foley added. "I ended up having a great time and being able to kind of create that role as I went along."
Ultimately, of course, Foley's stint ended the way many have for WWE authority figures — with a termination courtesy of the Mr. McMahon character.
If you use any quotes from this article, please credit "Foley Is Pod" with a h/t to Wrestling Inc. for the transcription.