Matt Hardy Says AEW Needs To Appeal To More Casual Fans To Grow, Talks Roster Split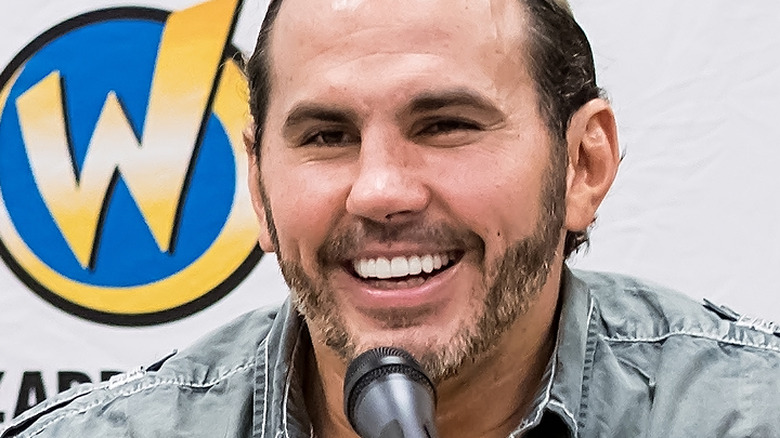 Gilbert Carrasquillo/Getty Images
As AEW continues to expand their business with the addition of "AEW Collision," there are still many questions surrounding a potential roster split and what viewership will look for the weekly live Saturday show. During a new episode of "The Extreme Life," Matt Hardy weighed in with his thoughts on reaching new audiences.
"That's a positive for AEW without a doubt that the Turner folks are all about the pro wrestling hardcore fanbase," Hardy said. "The hardcore fanbase, they're going to tune in each and every week, even if they complain about the show... I'm a big advocate after being around for 31 years, to grow the fanbase of AEW, I do think we need to appeal to some more casual fans who might not be all about just the wrestling and the five-star matches."
Hardy explained that while AEW does have characters that are on compelling journeys, he wants to see them lean a little more into that to captivate new audiences. He sees that AEW is largely focused on providing a great wrestling product, and he thinks it's cool that representatives from Warner Media approve of that. Looking forward, though, Hardy is curious to see if "Collision" adds to the company's excitement or waters it down.
"My gut tells me it's going to add to the excitement because I think it's going to be two pretty different rosters, so the shows are going to look differently," Hardy added, "so I think we could get to a deal where the shows are going to almost compete against one another." While on the subject of the potential brand split, Hardy stated that he doesn't care which show he ends up on, he just wants to stick with Jeff Hardy because they are a "package deal."
If you use any quotes from this article, please credit "The Extreme Life of Matt Hardy" with a h/t to Wrestling Inc. for the transcription.