John Cena Calls Roman Reigns 'A Film Performer In Live Entertainment'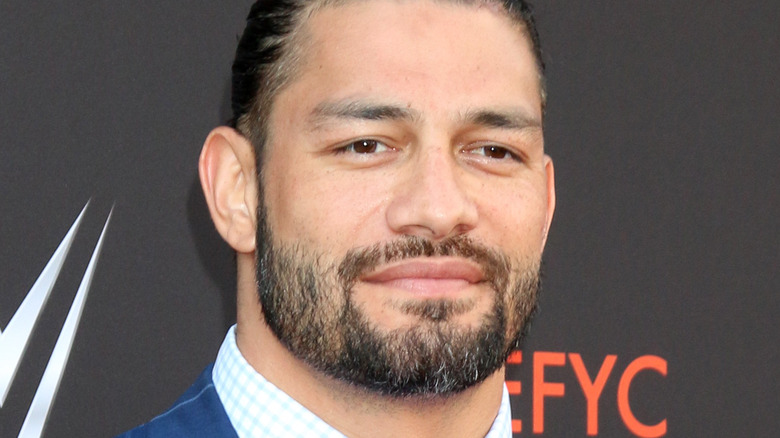 Kathy Hutchins/Shutterstock
John Cena knows that his days in professional wrestling are numbered and has begun taking steps back to usher in a new generation of WWE stars, including United States Champion Austin Theory. He has the utmost respect for the Undisputed WWE Universal Champion Roman Reigns, speaking to "Not Sam Wrestling" about how much the "Tribal Chief" has grown since his "sufferin' succotash" days.
"Fast forward to [now] where he doesn't have to say a f***ing word," Cena said, "that's a man who knows who he is, period. Is he a different human being? Yes."
Cena believes that it took Reigns eight years to truly figure out who he was supposed to be. But once the light bulb went off, Reigns plumbed his reserves of stoicism and nuance to captivate the audience. "He's such a nuanced performer," Cena professed. "... He's a film performer in live entertainment." 
But according to Cena, the absence of a crowd during the COVID-19 pandemic killed the polarization of Roman Reigns that had been holding him back. "He's really good," Cena continued, "and when you took away that thing that I built 'The company's pushing this guy, go against him just to do the thing!' 'But he's really good!' 'Nah, forget it, it's gonna be chaos, we run the asylum.' I love that but it doesn't help someone like Roman find confidence."
Reigns is no longer wearing a costume or a mask though, per Cena. He's molding his persona with the clay of his own personality. "He gives of himself, he is himself." Cena described Reigns as a "sponge" and said he just needed things to come together well for his ultimate ascension to stardom.