WWE Reportedly Considered Pairing Steve Austin With Sable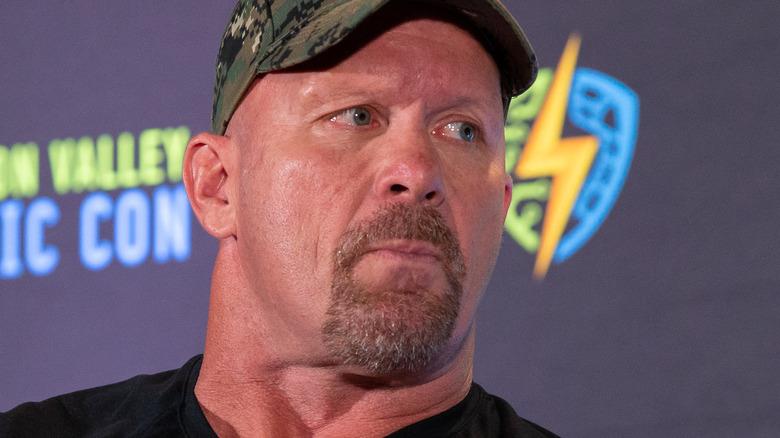 Bill Watters/Getty Images
There was a time when WWE and "Stone Cold" Steve Austin could do no wrong. On a recent episode of "Something To Wrestle," longtime WWE executive Bruce Pritchard discussed 1998 specifically when revenue had never been higher. He also touched on a potential on-screen pairing, but one that Austin himself disagreed with.
"Everything that we were touching during this period was turning to gold," Prichard said. "'Stone Cold' Steve Austin was absolutely on fire. Everything was on fire."
Austin's rise wouldn't stop. And at one point, officials thought about pairing former WWE Women's Champion Sable with him. After all, she had been modeling "Austin 3:16" t-shirts around this time. Ultimately, talks never progressed too far in that direction.
"I wouldn't say consideration, I would say discussion, yeah," Prichard stated. "Steve wasn't really crazy about doing it, didn't feel he needed it. And the concern was one of I think that it would've hurt Steve."
In 1991, while he was still in WCW, Steve Austin was paired with a valet named Vivacious Veronica. That didn't last long. She was replaced just a few weeks later by "Lady Blossom" (also known as Jeanie Clark), who appeared with Austin until November 1991, when she retired from professional wrestling. Fast forward to 1998, and "Stone Cold" simply didn't need the help. Sable, meanwhile, was coming off a WrestleMania XIV victory followed by a loss to Luna at the Unforgiven pay-per-view. Despite that, the fans had begun chanting her name. Pritchard, however, simply believed that pairing her with Austin ultimately would've done more harm than good.
"Steve was just so popular as that singular badass," Pritchard added. "Didn't need it."
If you use any quotes from this article, please credit "Something To Wrestle" with an h/t to Wrestling Inc. for the transcription.