Bruce Prichard Got Heat With Wife For Filming Jenna Jameson WWE Segment At Home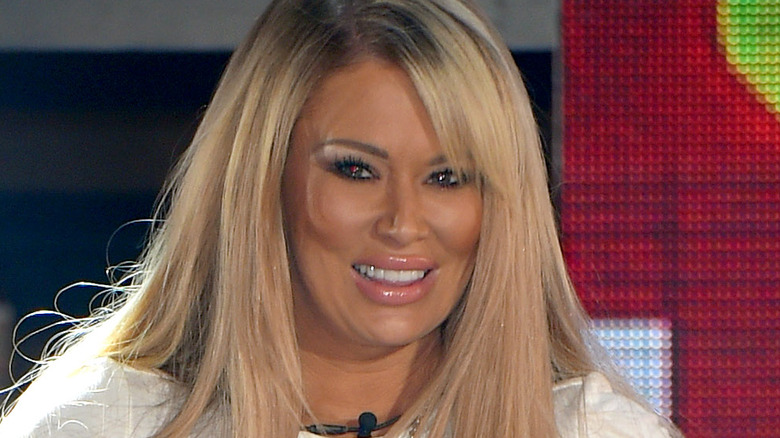 Karwai Tang/Getty Images
Balancing work life and home life is important, but some people just can't leave their work at the office. Although, when the work in the late 1990s involved filming with Jenna Jameson, can you blame Bruce Prichard for bringing his work home?
During the latest "Something To Wrestle," the WWE executive discussed the state of the promotion around the 1998 pay-per-view Over The Edge. One of the things that happened around that time was the introduction of Val Venis, portraying an adult film star that was refocusing his energy on the squared circle. Ahead of his in-ring debut, the company began airing tongue-in-cheek, innuendo-laced vignettes featuring Jenna Jameson, arguably one of the most popular actresses in her field during that time. Jameson connected with WWE through Paul Heyman. Prichard revealed that those promotional videos were shot at Prichard's house, which put him in some hot water with his wife.
Hitting Close To Home
"We literally have the number one female adult star in the world and she's like agreed to endorse Val [with] these vignettes," Prichard recalled. "We had this [tub] in our master bedroom overlooking our backyard ... We shot her in there, we shot her in my bedroom, and then we shot in those hedges with Val. Jenna had to walk across my lawn, which was the length of a football field, to get to the back where that was shot with nothing but these [bandoliers] on. [When] she was coming out of our spare bedroom, my wife looked at me and ... [said,] 'You brought a porn star to our house and put her in my bed?!'"
It's unclear whether the spousal heat was a work or a shoot, but Prichard eventually shared that his wife actually did get along with Jameson during the shoot because "she's a sweetheart and a nice person."
If you use any of the quotes in this article, please credit "Something To Wrestle" with an h/t to Wrestling Inc. for the transcription.