Ric Flair's Upcoming New Biography Has Had Its Cover Art Unveiled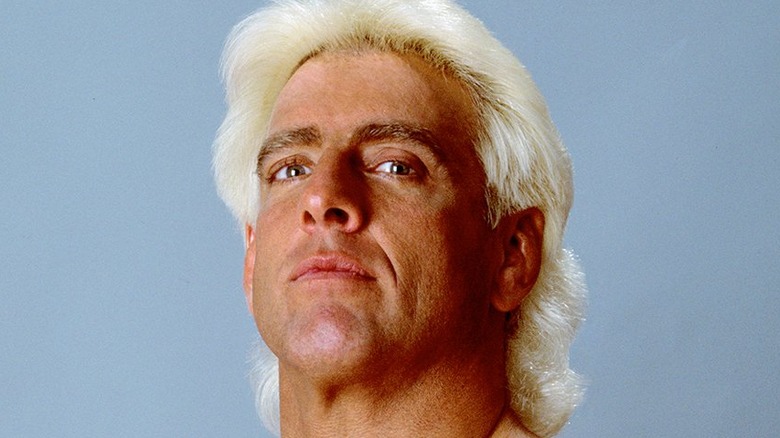 WWE
Last month, wrestling and baseball historian Tim Hornbaker announced that he has a new book coming out September 12: "The Last Real World Champion: The Legend of 'Nature Boy' Ric Flair," the first biography of the two-time WWE Hall of Famer, who has two memoirs to his name. Given Hornbaker's approach on his past books, which are heavy on research using primary source documents available in various historical archives, this is sure to be unlike any previous look at Flair's life and career. And recently, the book's publisher, ECW Press, added its cover art to the title's official page on their website:
The official promo copy for the book says that "[t]his unflinching biography explores the successes, struggles, and controversy of Flair's life in wrestling, pulling no punches in sharing the truth behind his in-ring achievements and out-of-the-ring hardships."  It further adds that Hornbaker "tells Flair's complete story, with meticulous attention to detail and exhaustive research, creating a must-read for fans of wrestling, sports, and popular culture."
For a taste of what the Flair book may end up looking like, his last two wrestling books are probably the best place to start. "Death of the Territories: Expansion, Betrayal and the War that Changed Pro Wrestling Forever," covers how Vince McMahon's national expansion of WWE in the mid-1980s sped up the decline of the regional territory-based system of pro wrestling, and is Hornbaker's most contemporary wrestling book to date. "Master of the Ring," meanwhile, is a deeply researched biography of pro wrestling's first "Nature Boy," Buddy Rogers, who rounded out his in-ring career by feuding with Flair in 1979.