Bully Ray Believes Cody Rhodes Is A Bigger Star In WWE Than AEW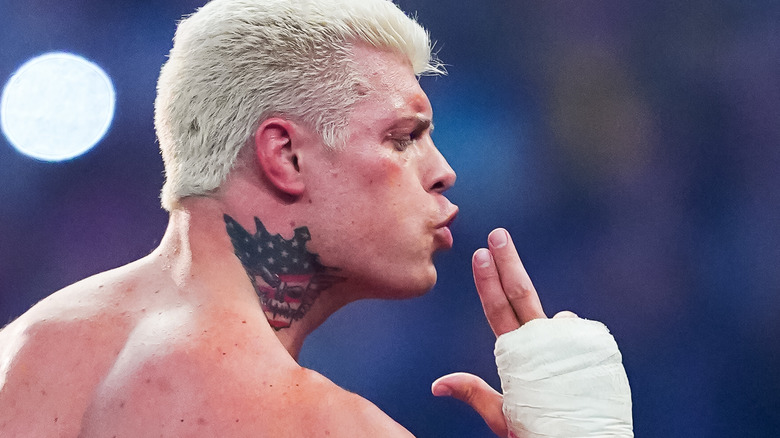 Alex Bierens De Haan/Getty Images
During a recent episode of "Busted Open," Bully Ray and Dave LaGreca analyzed Cody Rhodes leaving AEW to return to WWE. At a time where AEW was picking up several former WWE stars, Rhodes opted to leave AEW when his contract was up at the start of 2022. Ray believes that Rhodes wouldn't have left AEW if he was happy there, while LaGreca imagined Rhodes would "return home" at some point, but not as soon as he did. To that point, Ray was confused on how Rhodes saw WWE as "home."
"I don't know how a career midcarder... up until the point that he left WWE... looked at a place and considered it home," Ray said. He then went on to mention the fact that he met his wife, made lifelong friends, and worked with his brother and father there while trying to argue the point. LaGreca then shared why he thinks AEW would not exist without Rhodes' influence and involvement.
As the discussion progressed, Ray stated, "Make no mistake, Dave, the day Cody made his entrance and his return at WrestleMania, Cody became a much bigger star than he ever was in AEW. He became bigger than AEW, he became bigger than any talents in AEW because it's a different stage."
In the present, Rhodes is in the midst of trying to "finish the story" — which involves winning a world championship in WWE. The 37-year-old was able to headline WWE WrestleMania 39 this year, but his dream of dethroning Roman Reigns for the Undisputed WWE Universal Championship was thwarted by Solo Sikoa. While his journey to gold is on detour, Rhodes is set to clash with Brock Lesnar in a rematch at WWE Night of Champions this Saturday.
If you use any quotes from this article, please credit "Busted Open" with a h/t to Wrestling Inc. for the transcription.