Hulk Hogan Calls AEW 'Little Engine That Could,' Believes They Can Compete With WWE
Despite being on the short list of wrestlers that you could dub the biggest star in the history of the business, Hulk Hogan tends to be pretty disconnected from the wrestling business these days. He occasionally makes appearances for WWE, but for the most part, he's off doing his own thing, usually at his memorabilia store in Florida. With that in mind, one would not expect him to watch much current wrestling, particularly outside of WWE, but according to Hogan in an interview on "The MMA Hour," he not only regularly watches AEW shows, but sees them as a potential legitimate competitor to WWE.
"I was talking to somebody and I equated it to NASCAR drivers. You need seat time," Hogan explained. "You need to spend time in that seat until you start winning championships. It's almost like AEW is on track, like 'The Little Engine That Could.' I just think they need more seat time."
A Matter Of Time?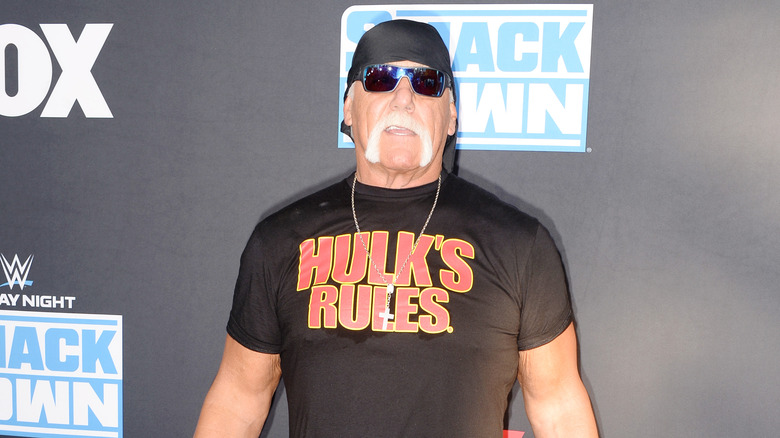 Jerod Harris/Getty Images
Hogan believes that AEW, in time, can be a true competitor to WWE.
"They just need to be around a little longer to be really, really, really competitive to where they could go head-to-head on Monday nights or something like that. But they're moving forward quite quickly. They're doing a great job over there."
Asked by host Ariel Helwani if he was a regular viewer, Hogan replied, "I record everything, brother! I'm a wrestling fan, come on!"
Hulk Hogan has rarely – if ever – been formally linked to AEW in any way in the past, with Tony Khan stating in June 2020 that "The Hulkster" was banned from the company's shows over the racist comments he had made that were leaked in 2015.
"What he said on the tape, long before George Floyd, I've told people I can't work with Hulk Hogan," Khan said.
If you use any of the quotes in this article, please credit "The MMA Hour" with Ariel Helwani and provide an h/t to Wrestling Inc. for the transcription.