Steve Austin Recalls Approaching Vince McMahon About Issues With His Royalties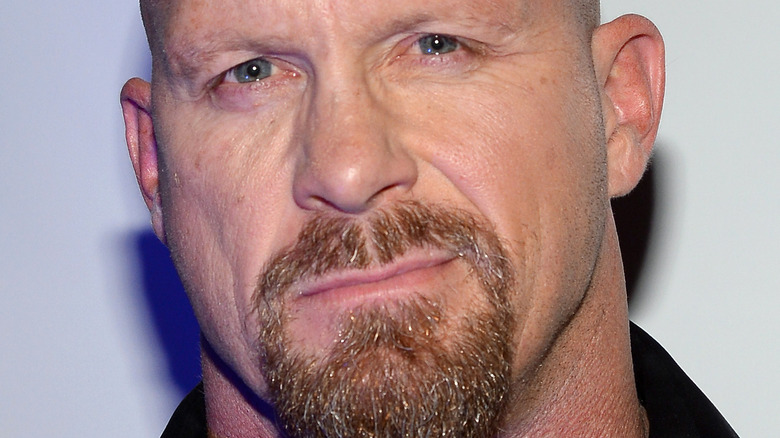 Ethan Miller/Getty Images
It's difficult to find many WWE superstars past or present that have been as marketable as "Stone Cold" Steve Austin. And he knows it. So much so that while on "SI Media with Jimmy Traina," the WWE Hall of Famer recalled a time when his royalty checks weren't lining up with how quickly his merchandise was moving. Specifically, the iconic "Austin 3:16" t-shirt. He ultimately approached WWE Chairman Vince McMahon, which led to a deal of a lifetime.
"WWE gets you royalty checks every quarter," Austin began, admitting that he doesn't recall ever telling this story publicly before. "I remember when I first came up with that shirt ... those shirts were everywhere, and I went and had a conversation with Vince, and I said 'Hey man, I seen a lot of t-shirts out there, and I notice that my royalty check doesn't reflect that.'"
That said, Austin has spoken of his merchandise cut in the past. Though this time around, he made a claim that he hadn't previously. All it took to get an increase in his percentage was a quick exchange. McMahon came up with a number, Austin agreed to it, and that was that. "It became known as the Austin Deal," he added. Then the royalty check came around, and it was staggering. "Vince wanted to hand-deliver this one to me because he goes 'Steve, I'm just giving this to you because I've never given out a check like this before. To anyone.'" It was a special moment for Austin who, during his days with WCW was never seen as a star. With WWE, he had become one. "I became a marketable entity."
If you use any quotes from this article, please credit "SI Media with Jimmy Traina" with a h/t to Wrestling Inc. for the transcription.