Jim Ross Doesn't Believe Active Wrestlers Should Be Booking Shows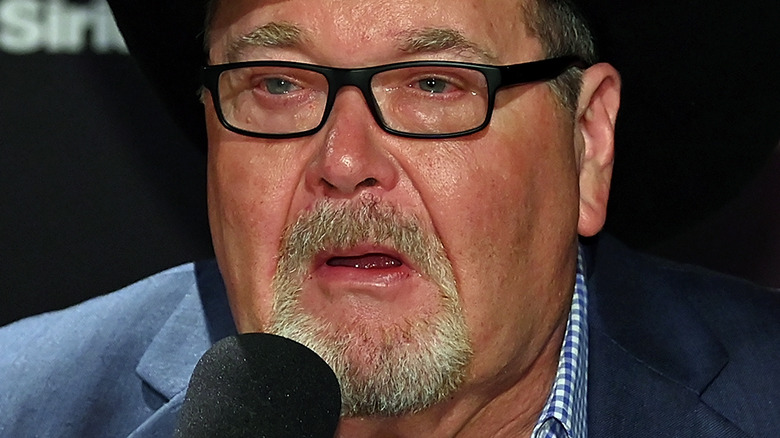 Slaven Vlasic/Getty Images
A little creative freedom can go a long way in professional wrestling, but current AEW commentator Jim Ross believes there's a limit to it. More specifically, he's not a fan of active wrestlers booking shows. 
On an episode of "Grilling JR," he recalled the magic that existed between Steve Austin and Brian Pillman as The Hollywood Blondes back in the 1990s, ultimately lamenting what could have been.
"I thought 'Boy, those guys were magic," Ross said of Austin and Pillman together. "I think they would've revolutionized the tag team scene, and would've become one of the greatest tag teams of all time."
Eventually, a match was made pitting The Four Horseman's Arn Anderson and Ric Flair against Austin and Pillman at WCW Clash of the Champions 23 in 1993. Unfortunately, the broadcast delivered a television rating of only 2.6 that night, and in the months that followed, The Hollywood Blondes proceeded to peter out. While the powers that be presumably thought Anderson and Flair couldn't possibly be to blame for such a low rating, Ross refused to blame any one individual for Austin and Pillman not having a longer run as a tag team. 
He also wished they would've gotten a longer program with each other between 1996 AND 1997, before expressing his concern over active wrestlers as bookers.
"I thought they could be a great main event level tag team, but that was not the consensus within all the decision-makers," he added. "And that happens a lot, Connie, when you've got wrestlers in charge or involved in the booking. It's not objective ... It's just not healthy. It wasn't healthy then, and it sure as hell not healthy now."
If you use any quotes from this article, please credit "Grilling JR" with a h/t to Wrestling Inc. for the transcription.