Road Dogg Calls Mick Foley A Natural Choice For The Inaugural WWF Hardcore Champion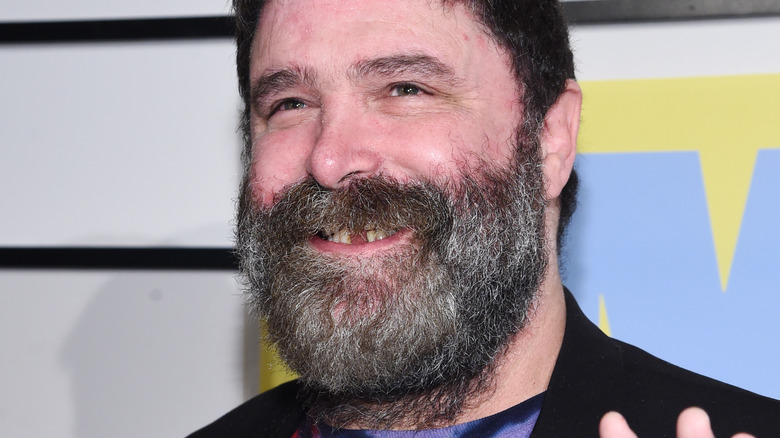 Jamie Mccarthy/Getty Images
Following the introduction of the Attitude Era, WWE shifted to an edgier, more adult-oriented product. One of the defining characteristics of this era was its increase in violence, which was evidenced by the creation of the Hardcore Championship. 
Before the addition of the 24/7 rule, this title was primarily defended under "hardcore rules," which meant that there were no count-outs, no disqualifications, and pinfalls counted anywhere. With an emphasis placed on the "hardcore" element of the title, former WWE CEO Vince McMahon awarded one of the industry's toughest legends, Mick Foley, to be the first Hardcore Champion.
On a recent episode of "Oh... You Didn't Know," Brian "Road Dogg" James –- the third titleholder — discussed the origins of the Hardcore Championship. Though most champions were crowned after winning a match of some sort, James said Foley was the perfect fit to be hand-picked as the inaugural Hardcore Champion. 
"It's the obvious choice, right? It's a no-brainer to me. If you're going to give this title to somebody, it's somebody who has deserved it, who has put their body through hell for the viewer, but for himself, too. So, he was the guy to give it to. He was the king who had the head on to which you put that crown, and so that's why he was crowned 'King of Hardcore' with that new hardcore title."
While Foley may be widely recognized as the "Hardcore Legend," James admires his storytelling ability as well. "Sometimes in the story, the good guy's got to fall off a building, and [Mick] doesn't mind being that guy," James said.  After claiming the championship in November 1998, Foley went on to successfully defend his title twice before losing it to The Big Bossman in a ladder match later that same month.