Sting's Decision To Join AEW Shocked Eric Bischoff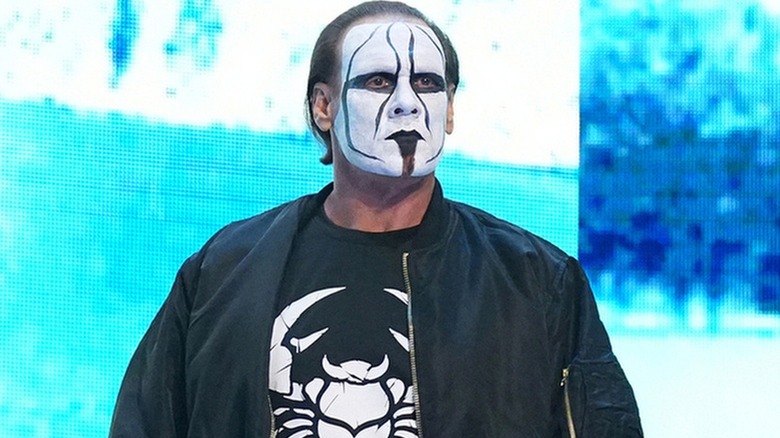 AEW
When Sting's neck was injured during a 2014 WWE Championship match against Seth Rollins, many believed that his wrestling career was over. That made his reemergence in AEW quite the surprise and, for his former boss Eric Bischoff, it was just as shocking to see how frequently he was still getting back into the ring to compete.
"I was surprised that Sting wanted to work again in the ring," Eric Bischoff shared on his "83 Weeks" podcast. "[He's been] doing it a long time. Same with Jeff Jarrett. I admire the hell out of Jeff Jarrett and certainly Sting for the same reason. It's one thing when you're in your 30s or 40s or even early 50s and get in there and do what Jeff and Sting and others are doing," he continued. "It's physically tough and the process — it's a big commitment."
Bischoff said that he couldn't believe the Stinger would try again in the ring but was thrilled for the WWE Hall of Famer. "I was happy for him," Bischoff said. "He was doing something that he wanted to do." Yet that didn't stop him from being startled at the risk-taking nature of Sting's return, seeing the former world champion diving off of stages and balconies. 
"What's he doing?" Bischoff exclaimed. "What's in the water down there in Texas, Steve? I wanna move there."
Sting has found new life in AEW, fighting alongside his protege Darby Allin — and recently AEW international Champion Orange Cassidy. Sting was on hand to help Cassidy and Allin get a win over the ROH World Six Man Tag Champions, possibly putting the wrestling legend back in contention for another title.