Kurt Angle Compares Potential Feud With AEW Star To Him Vs. Bret Hart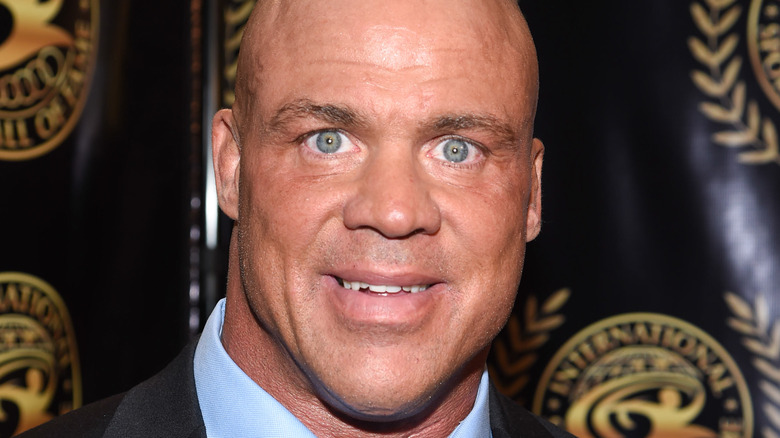 Dave Kotinsky/Getty Images
Kurt Angle thinks the world of Kenny Omega, and on the latest episode of "The Kurt Angle Show," the Olympic gold medalist explained that, should he ever wrestle the former AEW World Champion, he wouldn't want any frills to distract the fans.
"One thing we wouldn't do, we're not going to have a Cage Match, we're not going to have a Hardcore Match," Angle explained. "What we're going to have is a technical wrestling match. I think Kenny and I can add value to that. That's our forte, and that's what we bring to the table. It would be like Bret Hart vs. Kurt Angle, I really believe that. Maybe a little different because Kenny's a bit more of a high-flyer but for the most part," he continued, "it would be almost the same." Angle's co-host liked the idea of a match between Angle and Hart, to which Angle responded by saying that "The Best Bout Machine" is probably his second-highest dream match behind "The Hitman."
"If not, he's tied with Bret Hart," Angle stated. 
As he continues to cover from a number of longstanding ailments, Angle has stated that he'd like to wrestle newly-minted WWE World Heavyweight Champion Seth Rollins one day. He believes that Rollins has found a good balance between his flamboyant character work and his in-ring prowess, and should be in a similar position in the company as Roman Reigns.
Angle's last match was at WrestleMania 35 when the WWE Hall of Famer wrestled Baron Corbin.