The Iron Sheik Once Played Himself On An Unhinged Adult Swim Classic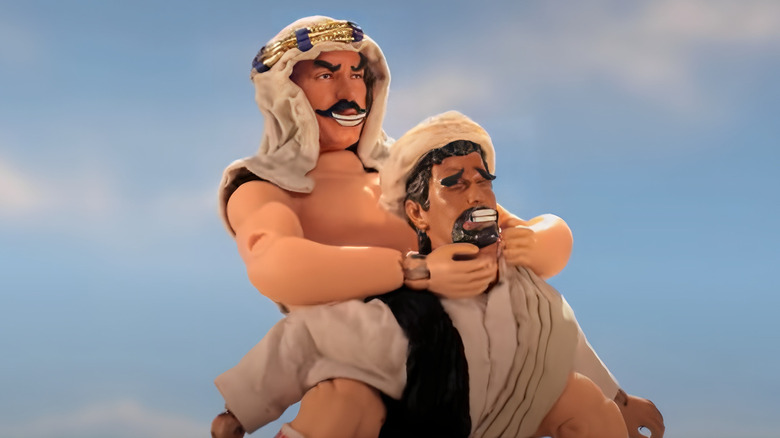 Adult Swim
On June 7, 2023, it was announced that The Iron Sheik passed away aged 81. Also known by his real name Hossein Khosrow Ali Vaziri, wrestling fans will forever remember the WWE Hall of Famer as one of the greatest heels and entertaining personalities of his generation. However, while his grappling exploits and notable backstage incidents made him a household name in the wrestling world, his talents also extended to the world of acting, as evidenced by his appearance on Adult Swim's "Robot Chicken."
Sheik shows up in two segments that can be found in Season 6's "El Skeletorito" episode. The most memorable sketch, "Iron Sheik of Arabia," takes place in 1916 and is a spoof of David Lean's "Lawrence of Arabia." In the skit, Sheik embarks on a violent rampage, administering his iconic Cobra Clutch finishing maneuver on everyone he encounters. In one scene, he even inflicts the submission hold on a camel.
It's hard to miss Sheik in this sketch as the entire adventure revolves around him causing carnage. However, the same episode also sees him briefly lend his voice to another unhinged story.
Iron Sheik plays a scientist in the same Robot Chicken episode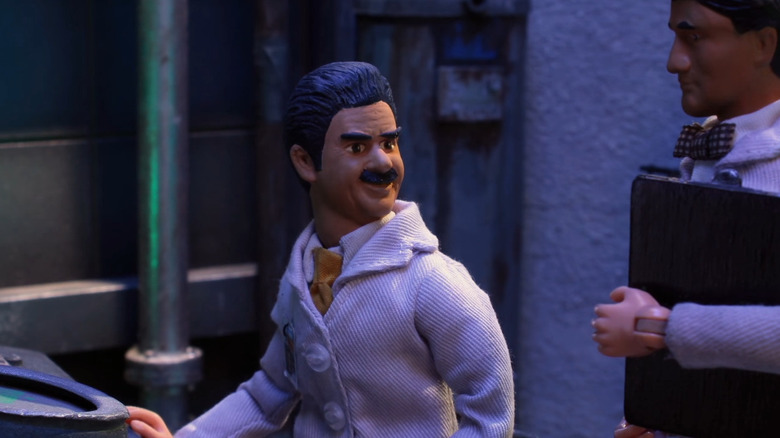 Adult Swim
Iron Sheik's other "Robot Chicken" sketch in "El Skeletorito" incorporates elements from a classic movie, and it's arguably more unhinged than "Iron Sheik of Arabia." The segment deals with hostile international relations between the United States and Iran, and it ends with a violent showdown involving soldiers, scientists, and the mascot for a popular soda.
The segment in question, "Hey, Kool-Aid," is a riff on "The Manchurian Candidate" that sees the Sheik play a scientist who hangs out in an Iranian nuclear reactor, only to have his plans thwarted by Kool-Aid Man. It turns out that the American military is using Kool-Aid Man to destroy impenetrable fortresses, and the sentient refreshment's actions help the soldiers violently defeat the scientist and his colleagues. Kool-Aid Man feels exploited afterward, and shares his story on "60 Minutes."
"Hey, Kool-Aid" is one of the shortest segments of the bunch in "El Skeletorito," but it's a memorable one that allowed Sheik to showcase his voice-acting abilities.