Hulk Hogan Gets Candid About The Toll His WWE Career Has Taken On His Body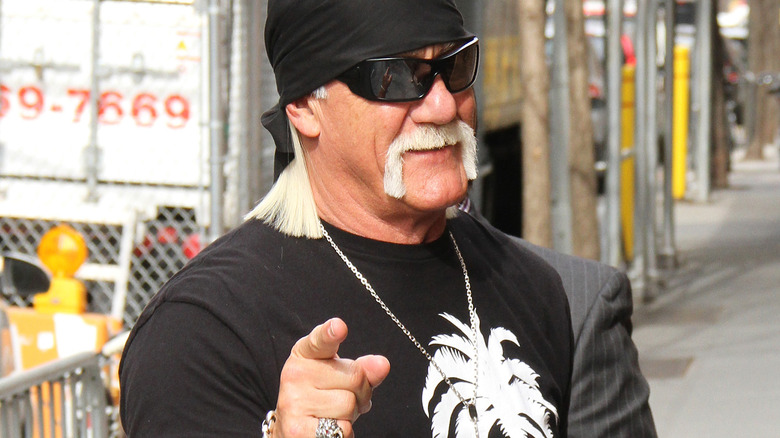 Bauer Griffin/Getty Images
More than a decade after his last professional wrestling match, Hulk Hogan is still feeling the after-effects of his 30-plus year career. During a recent appearance on the "Full Send Podcast," the two-time WWE Hall of Famer admitted that his body has endured a number of complications throughout recent years. The Hulkster wrestled a few matches following his stint in Total Nonstop Action Wrestling, but by that point, Hogan said his body had shut down on him, forcing him to limit his physicality in the ring.
"I haven't really wrestled since –- I wrestled The Rock at [WrestleMania] 18. Vince [McMahon] at 19, was part of 20 and 21 WrestleManias, but since then I've kind of really backed off, still work with the WWE, gone to Saudi Arabia a couple times, and done stuff with Ric [Flair], but nothing physical, because my body shut down on me about 14 or 15 years ago," Hogan said. "I ended up having like 25, 26 surgeries in a row, 10 back surgeries. I went in for one, ended up having 10. Had the knees replaced, after [my left knee] was scoped five times, [right knee] was scoped six times, and finally replaced. I replaced the hips [too]."
Hogan further detailed several more of the surgeries he had undergone, including operations to his shoulder, face, and orbital socket, among others. He attributed his deterioration to the hectic schedule he wrestled, which sometimes saw him perform twice in one day. "I was running so hard the first 20 years I was wrestling," he said.
If you use any quotes from this article, please credit "Full Send Podcast" with a H/T to Wrestling Inc. for the transcription.