AEW Collision Results 6/24 - Eight-Man Tag, Hiroshi Tanahashi Vs. Swerve Strickland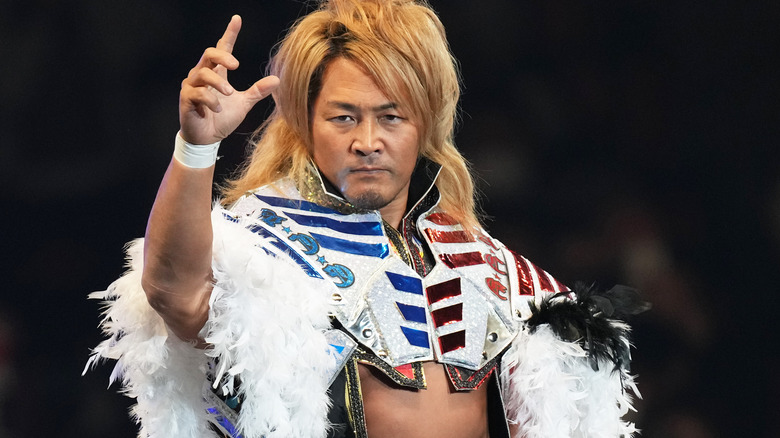 Etsuo Hara/Getty Images
Welcome to Wrestling Inc.'s live coverage of the second episode of "AEW Collision" on June 24, 2023, coming to you from the Scotiabank Arena in Toronto, Ontario, Canada. After CM Punk's massive return on last week's debut episode, the former AEW World Champion is set to main event in a huge eight-man tag, in which he will team up with FTR and "Absolute" Ricky Starks against Bullet Club Gold and the Gunns.
Also set for the show: Hiroshi Tanahashi returns to AEW to take on Swerve Strickland, Sting and Darby Allin will reveal their mystery partner for their upcoming six-man tag team match at Forbidden Door, and Willow Nightingale clashes with Nyla Rose in the first round of the Owen Hart Foundation Tournament. We'll also hear from Christian Cage following Luchasaurus' TNT Championship win last week, and Andrade El Idolo takes on House of Black's Brody King.
We are live.
Sting and Darby Allin reveal their mystery partner for Forbidden Door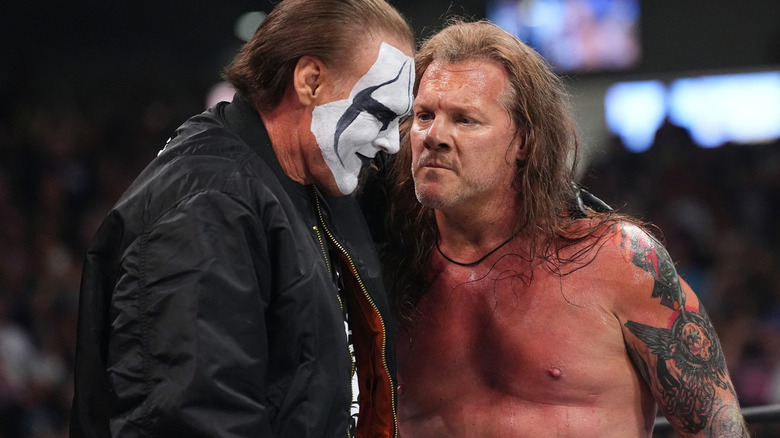 AEW
Prior to the show's opening, both four-man teams in tonight's main event appear backstage to cut brief promos.
Tony Schiavone is in the ring, and he's ready to introduce Sting and Darby Allin so we can learn the identity of their partner for the six-man match against Chris Jericho, Sammy Guevara, and Minoru Suzuki at AEW x NJPW Forbidden Door. He's cut off, however, by the sounds of "Judas," as Jericho and Suzuki (sans Guevera) approach the ring. Jericho takes the mic and says there's no point in the Toronto crowd trying to suck up to him because he's not from there. Jericho says "I'm from Winnipeg, you idiots," referencing a well-known quip he once leveled against a WWE fan in the crowd. Jericho mentions that Guevara isn't there because he's upset about the friendship forming between Jericho and Suzuki.
Sting and Allin hit the ring and tell Jericho that their partner is someone who has beaten Jericho in the past, at the Tokyo Dome. Tetsuya Naito then makes his entrance and joins Sting and Allin in the ring as Jericho and Suzuki retreat.
Hiroshi Tanahashi vs. Swerve Strickland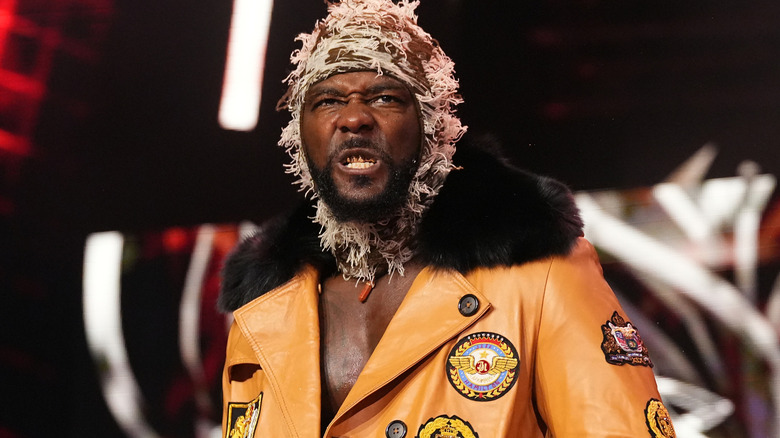 AEW
Miro is backstage, reminding viewers of his character and vendetta against God. He says he has forsaken his worldly possessions, including "my beautiful wife," and calls himself "Godless."
Swerve Strickland enters the ring and is shortly joined by the "Ace" of NJPW, Hiroshi Tanahashi. The match starts off with some slow back-and-forth, with commentary putting over the fact that Tanahashi has learned to fight more with his mind than his high-flying moves. Swerve eventually takes control and starts working over Tanahashi's leg as we go to break.
Back from break, Strickland is still in control, but Tanahashi fights back. Tanahashi hits a Sling Blade and goes up top for the High Fly Flow, but Strickland gets his knees up. Strickland kicks Tanahashi in the face and sends him into the corner, but Tanahashi fights back with another Sling Blade. Tanahashi goes up top for a High Fly Flow, but his knee gives out. Strickland attempts to capitalize by going to the top rope and attacking Tanahashi, but Tanahashi pushes him off to the mat and finally hits the High Fly Flow for the win.
Winner, by pinfall: Hiroshi Tanahashi
After the match, MJF's music hits and he appears on the big screen. MJF says there's no way Tanahashi is dumb enough to think MJF would be there in person. He's here to tell Tanahashi that the only way he agreed to their match at Forbidden Door is if it opened the show, because he wants to get out of Canada as quickly as possible. He tells Tanahashi that he isn't on the level of the devil.
Andrade El Idolo vs. Brody King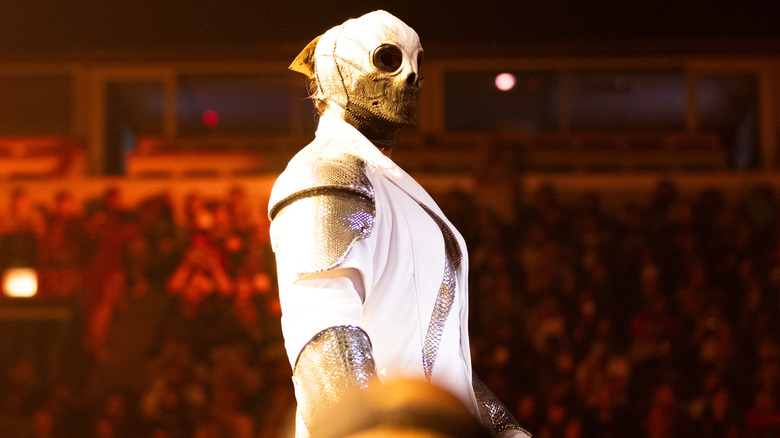 AEW
Brody King is accompanied to the ring by Julia Hart. Andrade wears his mask to the ring. When the bell rings, King backs his opponent into the corner, but Andrade dodges a chop. King sends Andrade into the ropes with an Irish Whip; Andrade bounces off King and poses before coming off the ropes again, dodging a kick, and taking King down. Andrade gets King into the corner and takes him down again with a head scissors. King sends Andrade into the ropes once again, but Andrade catches himself in the ropes and sends him to the outside when King charges him. The two battle on the ring apron, but Andrade gets the better of the encounter and hits King with a moonsault to the outside. However, when Andrade rolls King back into the ring, he only gets a one-count.
Andrade tries to lift King in a fireman's carry, but the House of Black member fights out and sends Andrade into the corner. Andrade delivers some chops, but King lifts him onto the top rope and chops him right out of the ring. Later on, King applies a submission hold to Andrade's arm, but Andrade stands up and delivers a series of punches and chops. King lifts Andrade up and drapes him over the top rope, then turns him over to delivers blows to his chest. Andrade snaps King's neck over the top rope to get back in the match and uses a drop toehold to drop him into the bottom turnbuckle. Andrade jumps over the top rope and delivers a dragon screw leg whip to King's leg, over the bottom rope. Andrade delivers a crossbody, then takes King down again. Andrade comes off the ropes with a forearm and both men fall down, but Andrade kips up and drags King to his feet. King fights out of another fireman's carry attempt, but Andrade knocks him into the corner, drops him, and delivers double knees to the face for a two count.
Andrade applies a Front Chancery, but King drives him into the corner. Andrade gets up on the second rope and King gets him in a fireman's carry. King's knee gives way for a moment, but he rights himself and hits Andrade with a running Death Valley Driver in the corner, then follows up with a cannonball. King gets Andrade up for another move, but Andrade slips away and again takes out the knee. Andrade goes for the Figure Four, but Hart climbs on the apron with Andrade's mask in her hand. King tries to take advantage with a discus clothesline, but Andrade dodges, nails a back elbow, and applies the Figure Four. Just before he can bridge into the Figure Eight, Buddy Matthews attacks Andrade, causing a disqualification.
Winner, by DQ: Andrade El Idolo
King and Matthews continue the attack after the bell, and King delivers a huge clothesline. Matthews sets up Andrade for King's piledriver; Hart watches in satisfaction. Commentary plays up the fact that Andrade doesn't have anyone to help him. Malakai Black appears on the big screen but says nothing as Hart raises Andrade's mask above her head. The lights go out.
We hear from Christian Cage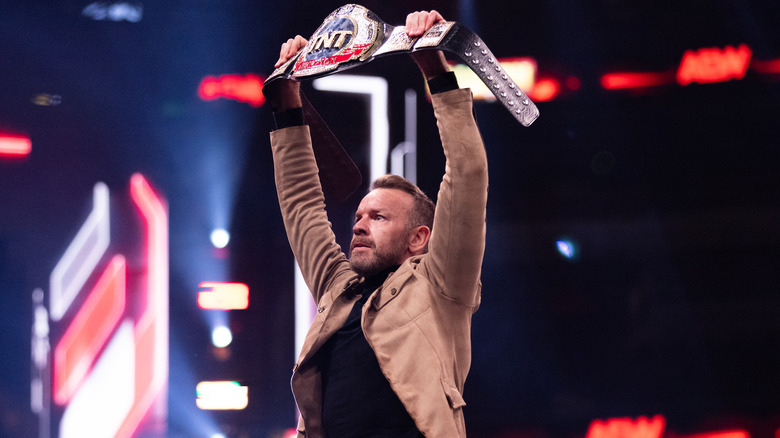 AEW
Tony Schiavone is in the ring and welcomes Christian Cage and the new TNT Champion, Luchasaurus. Christian says that last week, he left in a bad mood, but when he realized he was going to come back to Toronto with the new TNT Champion, his mood got worse. Christian tears down Toronto and says they're populated by losers. He brings up the Toronto Maple Leafs' second-round playoff loss, then mentions the Toronto Raptors winning the NBA title in 2019, but says they only won because of Kawhi Leonard. Christian says Leonard is his friend, and after winning that title, he called Leonard and told him he had to get out of Toronto just like Christian did.
Christian says the open challenges are over and if anyone wants a shot at the title, they have to earn it — fight, scratch, and claw, just like Christian did. Christian alludes to Cody Rhodes and says he will take the title to new heights, noting that he and Luchasaurus will remain the face of TNT, now and forever.
A video package airs for the various matches and competitors in the men's Owen Hart Foundation Tournament bracket, including CM Punk vs. Satoshi Kojima at Forbidden Door on Sunday. All eight participants get a few moments to cut brief promos on their opponents.
Owen Hart Foundation Tournament: Willow Nightingale vs. Nyla Rose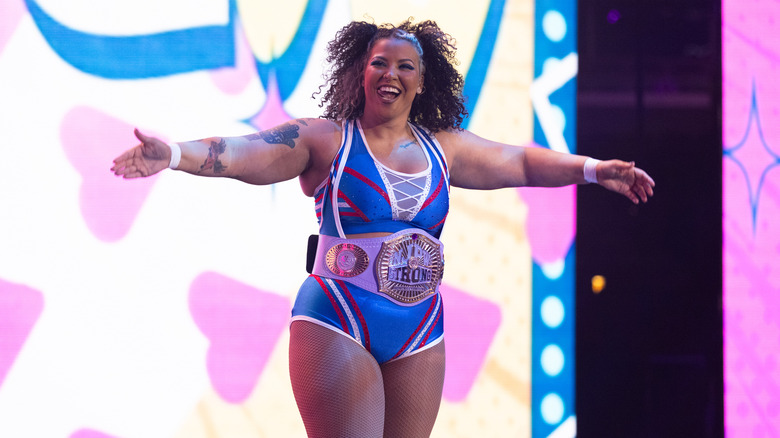 AEW
Willow Nightingale comes out first, followed by Nyla Rose, who's accompanied by Marina Shafir. The bell rings and they lock up. Rose backs Nightingale into the corner, but Nightingale escapes. They collide twice and neither move. Willow dodges a clothesline, but Rose drops her with a drop toehold and rolls her up for the one count. Rose has Willow in the corner and delivers body shots, then tries an Irish Whip, but Willow cartwheels out of it and hits an enzuguiri. Willow licks her hand before delivering a chop, but when she tries a second one, Rose grabs her hands and they go into a test of strength. Rose dodges a kick, but her opponent rolls her up for a two-count and then delivers a drop kick that sends Rose into the corner. She then comes after Rose, who rolls out of the ring. Shafir confronts Nightingale when she tries to follow, allowing Rose to capitalize and deliver a chop, sending her into the ring post. 
Back from break, Rose is in control but Nightingale fights back with a forearm and sends Rose across the ring with an Irish Whip in the corner. Commentary is selling that Rose has been working over Nightingale's arm. Rose comes out on top of a sequence of counters and drives Nightingale to the mat for a two-count. She then sends Rose into the corner and the two exchange forearms. Rose puts her opponent on the second rope and sets up for a powerbomb, but Nightingale fights out of it and hits some punches. Later, after hitting Rose with a Pounce, Nightingale gets Rose up for a Doctor Bomb and scores the three-count.
Winner, by pinfall: Willow Nightingale
After the match, Nightingale is surrounded by the Outcasts, including a returning Saraya. Skye Blue runs down with a steel chair and gets in the ring, and the Outcasts retreat.
Scorpio Sky is interviewed backstage and says he couldn't handle his big break. He introduces himself as one-half of the first-ever tag team champions, the first Face of the Revolution, and a three-time TNT Champion, and he did all that as a shadow of himself. Scorpio Sky is back, and he's about to show everyone who he really is.
Powerhouse Hobbs vs. Jeremy Prophet
AEW
The bell rings while Prophet is still posing and Hobbs levels him out. Hobbs drives Prophet into the corner and hits him with a series of running elbows, dominating his opponent in the process. Hobbs taunts Prophet and hoists him over his shoulder, but Prophet manages to escape and tries to get back into the match. 
Prophet then tries to roll up Hobbs for a sneaky pin, but the QTV member is too big for his opponent. Hobbs drags Prophet to his feet and hits him with several powerful clotheslines. Hobbs then taunts Prophet before Irish Whipping him off the ropes into a huge spine buster that gets Hobbs the easy three count. While nothing more than a squash match in the end, the victory should give Hobbs some momentum as he heads into this year's men's Owen Hart Tournament.
Winner, by pinfall: Powerhouse Hobbs
CM Punk, FTR, and Ricky Starks vs. Jay White, Juice Robinson, and the Gunns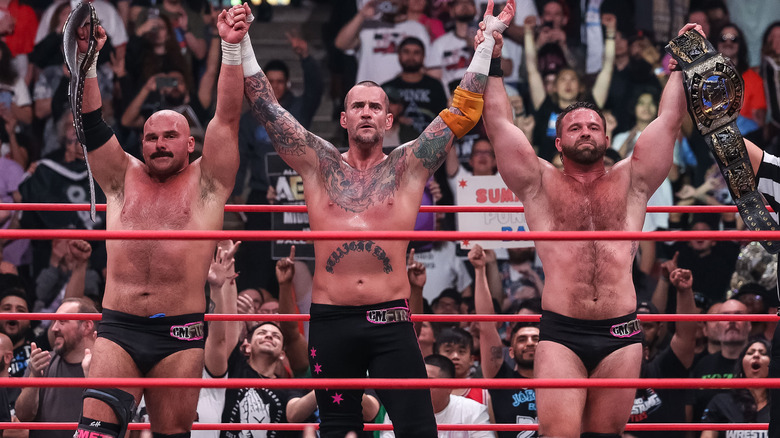 AEW
CM Punk gets audibly booed as Kevin Kelly mentions, "We're not in Chicago anymore." Punk does still have his share of supporters in the crowd.
Punk and Jay White start the match. Punk shoves White, who makes a gun with his finger, puts it on Punk's forehead, and tags out to Robinson. Punk comes off the ropes and drops his opponent with a shoulder tackle, then tags in Dax Harwood. Harwood and Robinson lock up, then the former bounces off the ropes before dropping his rival. Robinson gets up and slams Harwood, but the FTR member gets him with a side headlock takedown. Robinson fights out and hits a backdrop, then hits a standing senton for the one count. Robinson then tags in Austin Gunn, who unloads with fists in the corner. Harwood fights back with chops, then hits a vertical suplex for a one count. Cash Wheeler tags himself in, hits Gunn with a diving shoulder tackle, then dropkicks another opponent off the apron. 
Ricky Starks tags in and Gunn reverses an Irish Whip, but Starks hits him with a back elbow. Starks does Undertaker's Old School to Gunn off the second rope, then chops Robinson when he tries to come in, but this allows Gunn to recover and tag in White, who faces off with Starks. White points at Punk and Starks obligingly tags Punk in. Punk taunts White and they lock up, with White driving Punk into the corner. Punk hits a few body shots then White reverses and hits a chop and the entire sequence happens again. Punk chops White into the other corner and stands on the second rope to deliver punches, but the exchange ends with White sending Punk to the outside, where he's mobbed by the other heels. We go to break with the two teams squaring off on the outside of the ring.
After the break, Harwood has Robinson in a powerbomb position, and Wheeker tags in and hits a Doomsday Device for a near fall. Colten Gunn tags in and squashes Wheeler in the corner with a splash, following up with a dropkick. Gunn runs at Wheeler, but the FTR member catches him and wheelbarrows him into the corner for a two count. Cash hits a big chop, poses, and tags in Punk, who goes to the top rope. Meanwhile, Wheeler drapes Gunn over his knee for Punk to drop down on him, which earns two consecutive two counts. 
The main event continues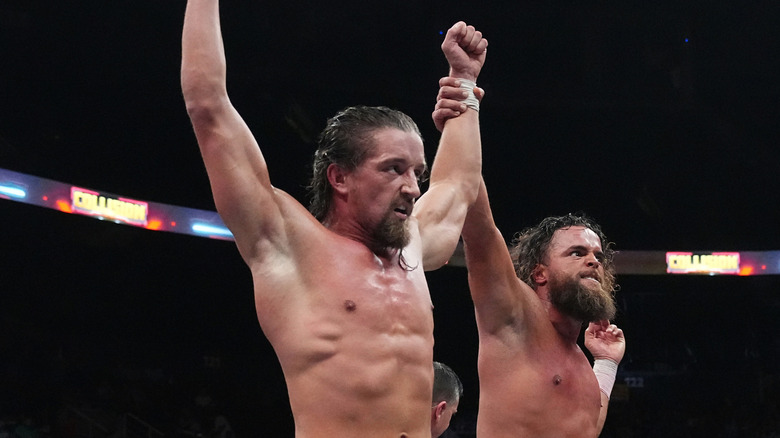 AEW
CM Punk whips Colten Gunn off the ropes, but a distraction allows Gunn to level Punk and tag in his brother. Austin Gunn stomps Punk in the corner and drives him into the heels' corner. Jay White tags in and chops Punk, then forces him to "smile for the camera." White hits a dragon screw leg whip and tags in Juice Robinson, who drops elbows on Punk's knee. Robinson tags in Austin Gunn, who gets chopped by Punk. The "Second City Saint" delivers more chops, but Gunn drags him back into the corner and White tags in. White delivers kicks to Punk's midsection in the corner, and the referee admonishes him, allowing Colten to attack Punk's face from the outside. 
After a quick break, White chops Punk while he's on the top rope. White climbs up and tells Punk he doesn't belong in the ring anymore, but Punk throws him off. Punk reaches out his arm for the tag, but White kicks his arm a few times before they get into a strike exchange. Punk gets the better of it and goes for the tag, but White chop blocks his knee. Punk drives White into the corner, takes out another team member on the outside, then gets an opportunity at the tag, but things start to break down. Robinson tries to deliver a GTS to Punk, but it gets blocked and his opponent kicks him in the head. The Gunns go for a double team on Punk, but he kicks them away and tags in Starks, who cleans house as the crowd chants "Ricky!" He delivers a Tornado DDT on Gunn for a near fall then poses in the ring. 
Robinson and White attack Starks, but FTR join the brawl in the ring and take them out. Harwood throws White into the barricade, but White backdrops him on the outside and makes the blind tag. Starks hits White with a Blue Thunder Bomb for a near fall. White rolls up Starks and has the tights, but he kicks out. White goes for the Blade Runner but Starks counters into a brainbuster, and Robinson breaks up the pin. The Gunns hit their finisher on Harwood, but Wheeler takes them out. Punk goes to the top rope and tries to hit White with a move, but White hits a uranage on Punk and then another one on Starks for a near fall. White goes for the Blade Runner on Starks again, but "Absolute" rolls him up for a near fall. White dodges a spear, which takes Starks' head outside the ring just long enough for Robinson to punch him, allowing White to finally hit Blade Runner for the win.
Winners, by pinfall: Bullet Club Gold and the Gunns
After the match, the Gunns, White, and Robinson pose together, suggesting that the Gunna have officially joined Bullet Club Gold.