Why Sonya Deville Was In Tears Over Reaction To Her First WWE Promo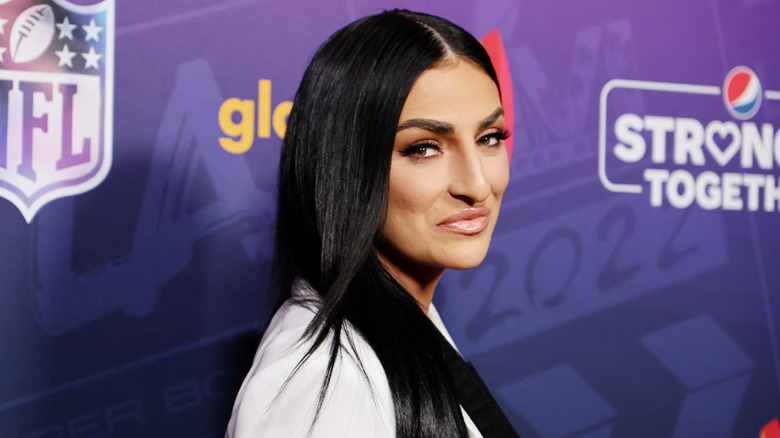 Mike Coppola/Getty Images
Sonya Deville began her WWE career in 2015 as a contestant in 'Tough Enough', and it's fair to say she has come a long way. Even Deville herself couldn't have foreseen her journey thus far. During a recent appearance on Maria Menounos' podcast, WWE star and former "Tough Enough" competitor Sonya Deville detailed how she first came to try out for the show.
"I was like, 'Wait wrestling like the fake stuff?' Because in my mind, coming from an MMA background, I didn't know much about it besides the Rock and John Cena," Deville said. To her surprise, she was offered a WWE developmental deal. Sonya explained that, six months after Menounos suggested she get an acting coach, she made a call to Vince McMahon to request promo time to display her character development.
"I was in this storyline with Mandy [Rose], my best friend, and it was a heated angle. I called him, I said, 'Sir can you please give me one opportunity to show you the passion and the intention that I give in the ring can translate to the microphone? One promo, give me one promo segment on the microphone, if I sh*t the bed you can take the mic away forever.'"
A week after her call with McMahon, Deville got six minutes of promo time with Rose as a result of another segment being canceled. After working on the promo with one of the writers, Deville delivered it with confidence and it paid off. 
"I remember I walked off-stage and Miz was standing backstage and he was like, 'that's one of the best promos I ever heard', and I started crying because coming from him, someone who's great on the mic and he's been around for so long, I was like wow," she said. "And Vince said something nice to me along the lines of 'good job, you delivered' and like that to me was such an accomplishment."