Kurt Angle On The Genesis Of His WWE 'Wrestling Machine' Gimmick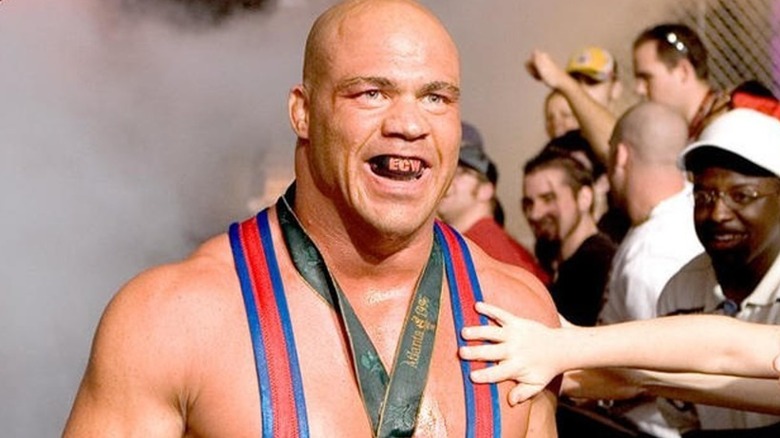 WWE
When Kurt Angle entered the WWE in 1999, there was no disputing the Olympic gold medalist's technical prowess. A skilled freestyle wrestler, he easily adapted his in-ring style to professional wrestling and proved his ability to entertain audiences was on par with his athleticism, winning viewers over with his milk-spraying and rap-battling antics. But in 2006, when Angle was drafted to the newly-reimagined ECW, his black mouthguard spelled out what his pummeling fists announced — violence. This Kurt Angle was unlike anything the WWE had previously seen. He was "The Wrestling Machine."
On a recent episode of his podcast, "The Kurt Angle Show," the former WWE and Impact champion looked back at that stretch of his career, revealing what provoked the change. As "The Wrestling Machine," Angle made a pointed shift from the comedic role he often played — roles Angle admitted he preferred over the intensity he later became known for. 
The stark change came at the behest of Paul Heyman and Vince McMahon, who planned for Angle to represent ECW alongside original Rob Van Dam. "'Listen, we need to stop doing the funny stuff,'" Angle recalled McMahon telling him, "'I want you to be taken more seriously.'" 
Nothing to Laugh About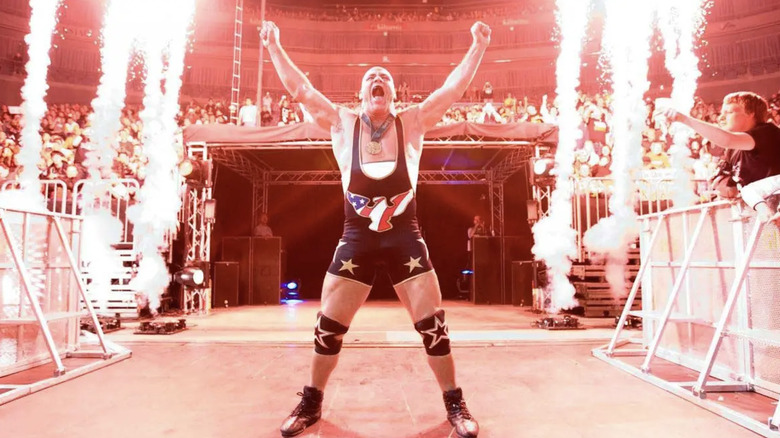 WWE
Despite being prompted by McMahon and Heyman's vision of a serious Kurt Angle dominating the brand, Angle rejected a report suggesting he had no say in his character.
Laughing off the rumor, Angle denied his supposed lack of creative freedom. Expressing confusion as to how such falsehoods exist, Angle revealed he had suggested the nickname to McMahon and Heyman. But he was aware that he had become perhaps too intense with this new dynamic.
According to Angle, intensity —one of the three Is championed by Angle since the beginning of his pro wrestling career—was the most important quality to portray. 
"Hey, when you're 'The Wrestling Machine,' you can never be too intense," Angle stated. "You have to raise the bar higher than everybody else and make sure you're more intense than everybody else on the card ... Especially if you're going to be 'The Wrestling Machine,' intensity is the main factor."