Why Matt Hardy Says AEW Programming Doesn't Need To Feature Blood Every Week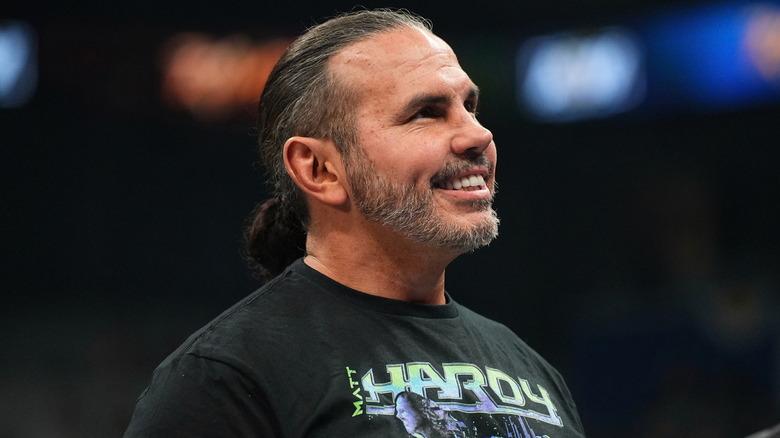 AEW
The use of blood has become a recurring theme in AEW. When that use exceeds a certain threshold though, some pundits believe it can lose its value. On "The Extreme Life of Matt Hardy," Hardy explained why he resonates with that belief.
"I think bleeding and blood is best when it's used in the correct spaces and not every single week," Hardy said. "It doesn't need to be done too often because that'll kind of kill it. That hurts its effect as well. When blood happens in certain scenarios, it means so much more ... I just think blood is one of the few things in pro wrestling that shouldn't be overdone. I feel like it means so much more when it is done in specific scenarios, and it's a little bit of a sparse, special thing." Hardy then clarified that his personal preference for less blood shouldn't discourage other talent from leaning into it if they want to. 
One of AEW's most frequent bleeders is former AEW World Champion Jon Moxley. He, of course, holds a slightly different perspective on the imagery of blood in professional wrestling. As Moxley considers wrestling to be a combat sport, he believes that including a layer of blood adds an element of realism to the performance. With wrestlers putting their bodies at risk, Moxley noted that they are naturally susceptible to bleeding at some point anyways, which is why he encourages his fellow wrestlers to bleed more often, just to a lesser degree. 
If you use any quotes from this article, please credit "The Extreme Life of Matt Hardy" with a H/T to Wrestling Inc. for the transcription.