Court Bauer Explains How MLW's Don King Storyline Came To Be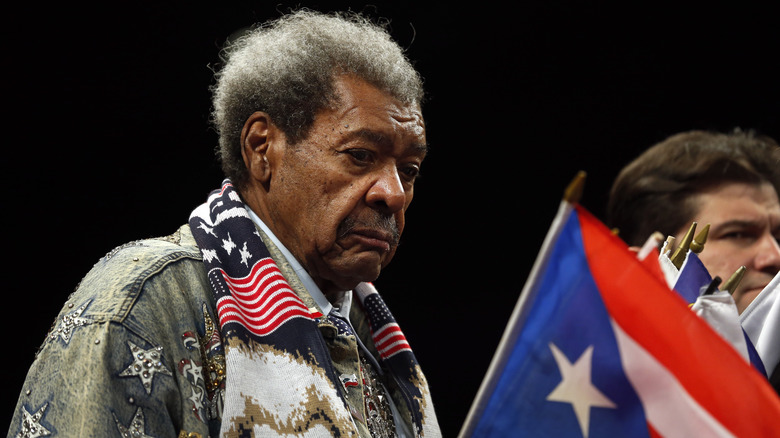 Steve Marcus/Getty Images
Major League Wrestling has a new World Heavyweight Champion in Alex Kane, and the mystery backer for Kane's Bomaye Fight Club was revealed to have a legendary backer in famed boxing promoter Don King.
In an interview with the NY Post, MLW CEO Court Bauer said the idea had been in process for nearly two years, since Kane had a falling out with American Top Team leader Dan Lambert.
"There was no other option on the table," Bauer told the Post, saying that he felt that the company needed to take the opportunity to put Kane in the same lineage as fighters like Muhammad Ali, George Foreman, Joe Frazier, Larry Holmes Mike Tyson, and all the other fighters that King has promoted. "We're like that's the perfect landing if we can stick the landing." Bauer had initial talks with King, but scheduling made Bauer worry that he wouldn't be able to make the appearance happen, despite already telling an excited Kane about the idea. Kane had been "ecstatic" about being involved with the fight promoter.
"Don King is a legend and a symbol of black excellence," Kane told the NY Post. "I wanted to tell the world, but I had to keep it quiet."
Kane's faction, the Bomaye Fight Club, is taken from the famous chant that fans in Zaire chanted at Muhammad Ali in his fight against George Foreman, "Ali, Bomaye!" which means "Ali, kill 'em!"
King was revealed as the backer of Bomaye Fight Club in a video message that played during Saturday's MLW Never Say Never PPV, where Kane dethroned Alexander Hammerstone, who had previously been MLW Champion for over 640 days, the second longest reign in the history of the promotion.