Kurt Angle Reveals Who Was Going To Be In The Main Event Mafia And Who They Needed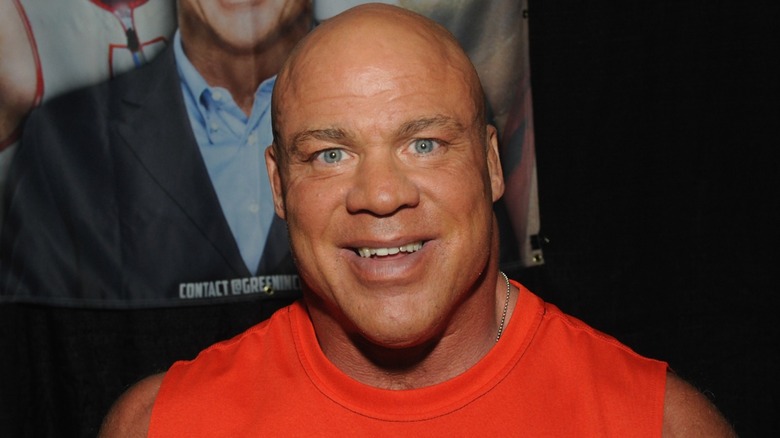 Bobby Bank/Getty Images
Kurt Angle's involvement as part of the Main Event Mafia in TNA has certainly been polarizing over the years. In a bid to spark a main event program between the established veterans of the TNA roster against some of the younger rising talents, Angle joined forces with a host of former WWE and WCW stars to bring together a new heel faction. Along with the Olympic gold medalist, the group consisted of Sting, Kevin Nash, Booker T, Samoa Joe and Scott Steiner — but there was originally supposed to be one more man involved. 
Speaking on the "The Kurt Angle Show," the six-time TNA World Champion confirmed that Tyson Tomko was slated to be part of the initial incarnation of the Mafia, before his abrupt departure from the company in 2008. "Yes [I was surprised]. I don't know if it was the money or if he was interested in going over to Japan. I wasn't sure why he decided to leave, but he was gonna be in a good spot if he would have stayed. I was really surprised that he left," Angle said. 
While the likes of Angle and Nash had played the villain plenty of times before, the inclusion of Sting within a heel stable came as a surprise and was intended to be the major draw. 'After all, "The Icon" shedding his trademark face paint for black sunglasses was something Angle knew the M.E.M needed.
"We needed Sting; we knew we needed Sting. He was the one guy who had more experience than anybody else. I believe Kevin formulated that group thinking of Sting first ... It was really difficult for Sting to do this. He took to it pretty well, but I know that he was uncomfortable because he's never done it before and he was always a babyface and the people always adored him." 
After a year-long run, the faction would disband towards the end of 2009. An attempted reunion in 2013 with the addition of Magnus and Rampage Jackson would only last four months.