Update On AEW's List Of Banned Moves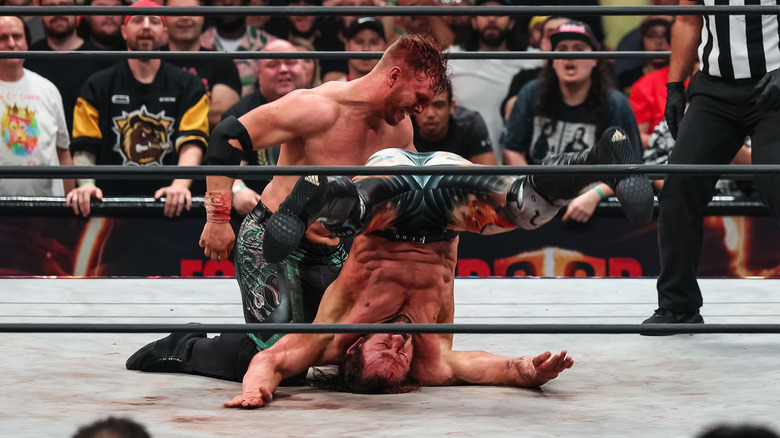 AEW
News broke recently of AEW codifying certain safety precautions for its matches, but according to Wrestling Observer's Dave Meltzer the recent report is nothing new for the roster and production staff of AEW.
"I actually have heard from a lot of guys, the story's obviously true...but aside from the fact that Bryan Danielson did the convulsing thing once, that nobody really thought was a good idea, so it'll never be done again," Meltzer said on the latest "Wrestling Observer Radio." AEW President Tony Khan reportedly met with Dr. Chris Nowinski about how best to protect wrestlers in the early days of AEW.
"The rules of the banned stuff, those are rules that have already been in play since the beginnings," Meltzer explained, "since the first time Chris Nowinski and Tony Khan talked and Nowiniski talked to everybody. Those things that you see as 'banned,' they've always been." Meltzer notes that many of the moves aren't "banned" as much as they are subject to agents' approval, which Melzter believes the stars were all seeking anyway.
"Every now and then something will happen...where you want to do something that's improvised because it's not scripted move-for-move and you may end up doing that," Melzter continued, "if you're a pro and you're a top guy, they're gonna give you the benefit of the doubt with improvisation." According to Meltzer, the in-ring product won't be toned down, and ultimately everything on the list was already a standard procedure for the company and televised wrestling in general.
Many fans were concerned –not only with Danielson's convulsions during his match with Kazuchika Okada– but also with the brutal match between Kenny Omega and Will Ospreay. Omega has called out fans for being overly sensitive to the performers' health.