Kenny Omega To Critics Of AEW Forbidden Door 2023 Match: 'Just Shut The F*** Up'
AEW
The Helen Lovejoys of the wrestling world are still clutching their pearls and begging someone to "please think of the children" in regard to Kenny Omega's match with Will Ospreay at AEW x NJPW Forbidden Door, specifically the infamous Tiger Driver '91 spot. Omega doesn't believe that the critics have his best interests at heart.
"They just want to put a dark mark on that match," Omega told Sports Illustrated, "which is a performance I'm extremely proud of. And performances like that will be few and far between as I get older and older."
The former IWGP United States Heavyweight Champion compared his match with Ospreay to the work of acrobats in Cirque du Soleil.
"To me, that's the peak form of that style of entertainment," Omega explained. "As I watch these shows and their stunts and their compositions for every scene, it is rare for me to go, 'That looks easy. I could do that.' But there certainly are times when I watch what they do and know this is their identity, and that is the reason why they're on that stage."
Omega believes that the move was the right choice to elicit the right emotional reaction from the crowd, believing the risk is worth the reward.
'Don't tell Mike Tyson how to box'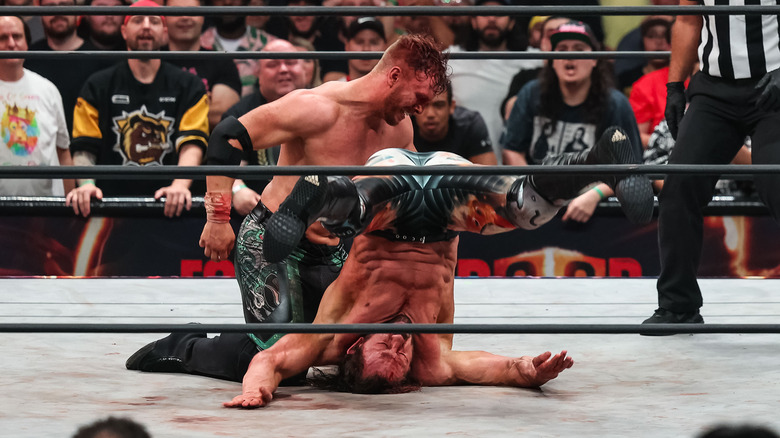 AEW
"Look at the way Mike Tyson boxed," Omega exclaimed. "His style was so dangerous, he stayed so close to his opponent." Omega believes that Tyson's risky style is what made him such a tough competitor, and ultimately a legend. "Wouldn't that have been better for his brain [to switch up his style]? Didn't he understand how dangerous it was? But that's what made him Mike Tyson.
"Don't tell me not to wrestle the way I know how to wrestle," Omega continued.
The former AEW World Champion believes that no one but himself should be able to tell him about the limits of his body, once again comparing himself to "Iron" Mike Tyson.
"Is there a risk?" Omega asked. "Was there a risk when Mike Tyson was fighting within inches of space between another championship-level boxer throwing power punches? Of course. But Tyson was confident in his abilities, and he knew he was the best. So don't tell Mike Tyson how to box, and don't tell Tyson Smith how to wrestle. You aren't even close to being qualified. Just shut the f— up."
Omega has previously said the match, and that spot specifically were designed to take fans on an "emotional rollercoaster."