Tommy Dreamer Talks Fan Violence, Assault On Beulah, Following Don Callis AAA Attack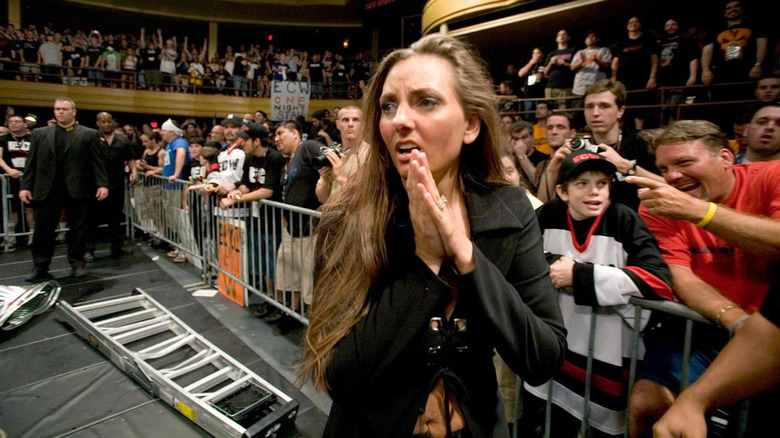 WWE
Over the weekend at the post-AAA Triplemania XXXI: Tijuana press conference, Don Callis was attacked by a fan. The situation stirred up intense feelings in former ECW Champion Tommy Dreamer this morning on "Busted Open Radio" as a result of some similar experiences he went through over the years.
Dreamer says that while Callis is playing a heel, he doesn't deserve to get choked out, and that it is especially sad considering no one tried to help the manager fight off the rogue attacker.
"I have mental issues due to violent actions that I have been a part of," Dreamer noted. The former ECW star says he has a hard time celebrating the recent anniversary of his Stairway To Hell Ladder Match with Justin Credible. According to Dreamer, this only reminds him of the "real life riot" that took place during the match. 
"Live on PPV, a giant brawl — the entire locker room came out, and we beat up a whole lot of people during my match," Dreamer recounted, "and I was infuriated." But that was not the only instance Dreamer ever witnessed firsthand.
"Telling a story last night where me and Raven are wrestling and Beulah gets attacked from behind," Dreamer said. "Two dudes pull her backwards over the guardrail." Dreamer compared the men to contestants on "The Price Is Right" trying to spin the prize wheel. "And I'm in a hold, and all of a sudden I remember her flopping over the guardrail backward, and then two dudes started putting the boots to her."
Dreamer says he was conflicted about breaking character, as he and Beulah were enemies at that time, but security and the locker room handled the situation. According to Dreamer, no one pressed charges, and the locker room acted as "judge, jury, and executioner" when carrying out the fans' punishment.
However, Dreamer said he won't go to another country without Impact Wrestling. According to him, he's had too many strange encounters in foreign countries and thinks that AEW President Tony Khan should start asking for guaranteed safety for his talent if they are going to take international bookings.