John Cena Hated Doing Make-A-Wish With Press Around, According To Bruce Prichard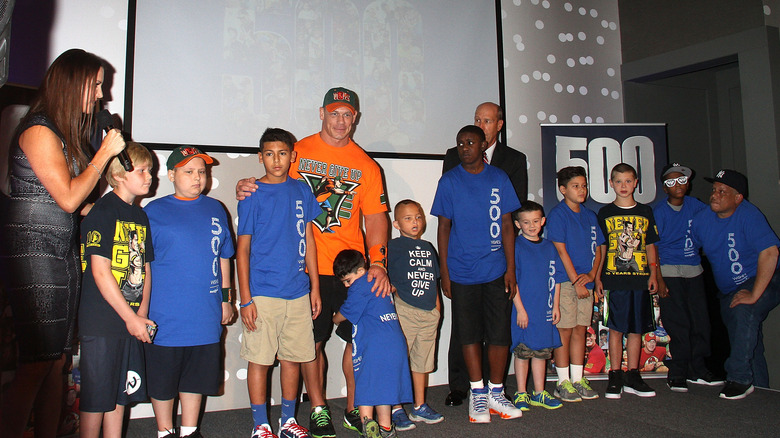 Laura Cavanaugh/Getty Images
Last September, John Cena set a Guinness World Record for the most wishes granted through the Make-A-Wish Foundation when he granted his 650th wish. While Cena's incredible generosity has been widely praised over the years, the man himself has never sought the fanfare. 
According to Bruce Prichard — who worked closely with Cena when he started granting wishes in 2002 — the WWE superstar "hated" granting wishes if there was "presence of any kind involved" including WWE personnel and PR representatives. Prichard revealed the same on a recent episode of "Something to Wrestling With" while reflecting upon the early years of Cena's career.
"John would always insist on, 'Their wish wasn't to be surrounded by cameras and press,'" Prichard began. "'Their wish was to meet me and they're gonna get an experience with me, a one-on-one experience with me, and I'm not doing it for the publicity. I'm not doing it to have people say, 'What a great guy.' I'm doing it because a dying child asked to meet me.' That's John Cena."
"The battle to get John to allow us [WWE] and allow Make-A-Wish to acknowledge him for everything he had done was a bit of a battle," Prichard continued. "He'd be like, 'Why do you want to recognize me for something that I do because it's the right thing to do?' That's not work to him — that's just his love, his appreciation that someone appreciated him that much and that was his give back. He truly loves those kids and loves doing that. That's the real John." 
Bruce Prichard: John Cena Always Made Time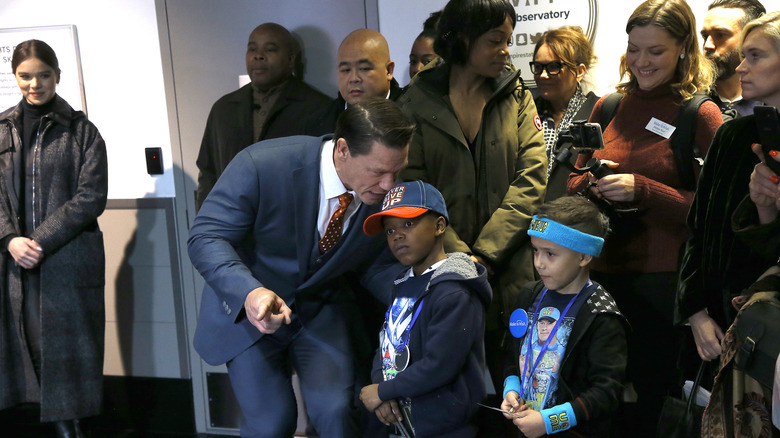 John Lamparski/Getty Images
Prichard reiterated that Cena hated when "everybody just bragged" about his Make-A-Wish grants, as he felt the PR initiatives shone the spotlight on him rather than focusing on the plight of the children he was determined to uplift. As such, Prichard revealed that many of Cena's philanthropic endeavors were never documented, adding that Cena insisted on them never being made public.
Unlike those early years of granting wishes under the WWE umbrella, Cena — now a marquee Hollywood actor — continues to travel across the world to put smiles on the faces of children diagnosed with critical illnesses. Marveling at the same, Prichard gave a shout to Cena for taking time away from his busy schedule. 
"It's a big deal when somebody from Hollywood goes and, you know, makes a wish come true," Prichard admitted. "As many as John's done, as many times as John has looked at his schedule and said, 'Hey, I've got 12 hours. I can make a flight, you know, four hours someplace, to go meet a child, spend a few hours with them, and then fly back four hours and do what I needed to do.' Instead of saying, 'I'm gonna sleep in, train, and go eat at this restaurant or whatever.' It's like, 'No, 'I'll make that work.'"
"You don't hear about that stuff, and again, that's the thing that makes John Cena the human being, the great human being he is that then makes him the huge megastar that he has become," Prichard concluded.