WWE Raw Rating Stays Flat From Prior Week For July 17 Episode Advertising Brock Lesnar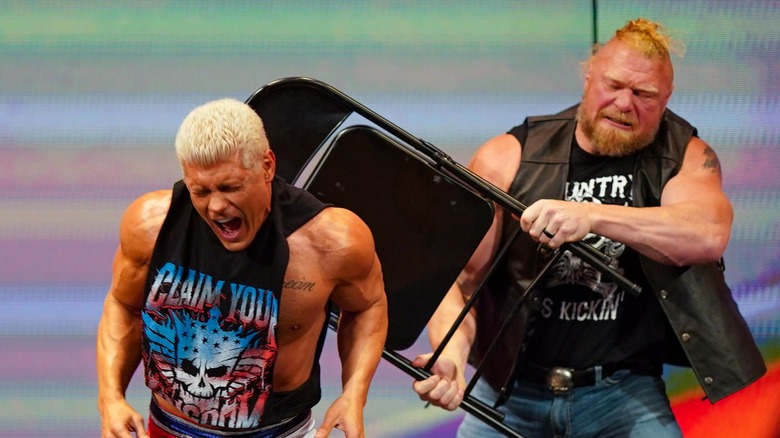 WWE
Last week, coming off the expected drop during July 4 weekend, the Nielsen ratings for "WWE Raw" recovered to the levels that they had been at of late. This week, though, there was the extra hook of Brock Lesnar being advertised, so with that in mind, how much of a change was there, if any?
According to reports from Pro Wrestling Torch and Wrestlenomics' Twitter and Patreon pages, Monday's "Raw" averaged 1,881,000 viewers (up 4% from last week), approximately 740,000 of which were in the "key demo" most valued by advertisers, adults aged 18 to 49 (up approximately 2% from the week prior). The latter figure translates to a 0.57 rating in 18 to 49.
Though no comparative ranking data was available as of this writing, Programming Insider had projected earlier on Tuesday that, based on preliminary numbers, USA Network was the top network in prime time for the night thanks to "Raw." Based on the final network prime time numbers at SpoilerTV, that held up across the three hours of prime time, albeit with ABC's "Jeopardy Masters" (which aired opposite the first hour of "Raw") beating "Raw" with a 0.66 rating in 18 to 49 before the rating halved for an "American Idol" clip show that lowered the prime time average. This week's "Raw," with its 0.57 rating in 18 to 49, was up 4% from 2023's average up to this point as well as the previous 10 weeks, both of which sit at 0.55. At this point last year, the year-to-date average was 0.46, so "Raw" is up 20% year-over-year in that regard.