Why WWE's Cody Rhodes Loves Every Generation Of Wrestling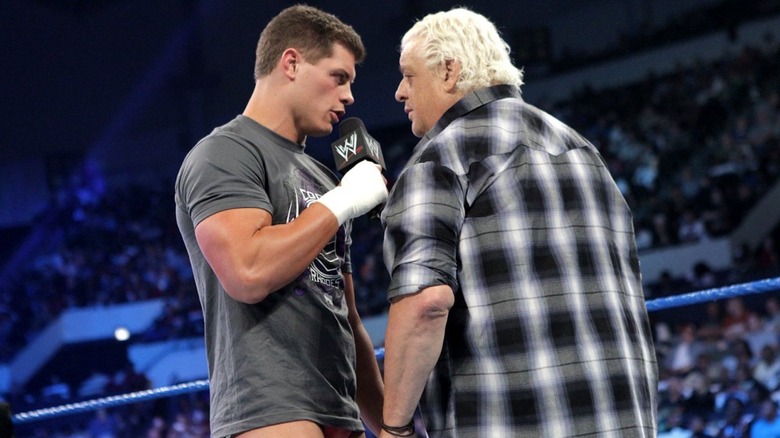 WWE
Cody Rhodes has always been open about his deep appreciation for wrestling history, as it relates to his father, Dusty Rhodes, and in general. After all, he was the one given on-screen credit for bringing back the beloved classic Intercontinental title belt design in 2012 after it had been dormant for well over a decade. 
He's clearly studied wrestling's past, and in a new interview released on the podcast feed for SiriusXM's "Busted Open Radio," he elaborated on how he's learned from it.
"I love every generation of wrestling," he said while discussing his pre-Double or Nothing 2019 promos about wanting to "kill the Attitude Era" of WWE. "I'm not as easy to get to anymore, but I used to be very 'gotten to,' and it stems a lot from certain luminary figures just continuously telling this generation, 'This is how you're supposed to do it.' It's opinions and all that, but for us to say, 'You might be right' and 'that might have worked then,' thankfully, this is what's working now. It's assuring, it makes you not want to doubt yourself." 
He added that Arn Anderson has been a big part of his career mainly because of his ability to adjust to the times.
They'd love it
Wwe/Getty Images
"The American Nightmare also said that he recently had a dream where his dad was introducing him to legendary Florida promoter and WWE Hall of Famer Eddie Graham. He then went on to speak about what the legendary promoters of the '80s would think of the present-day pro wrestling product.
"Eddie Graham, Vince McMahon Sr., Bill Watts, the Von Erichs: If you asked them today what they think, if you brought them to 'Monday Night Raw,' if you take them to WrestleMania, they'd love it. I don't wanna put words in their mouth, you can't do that, I can't make that guarantee. I can be pretty close and say they'd love it. They'd love to see the interaction that takes place between a fan and a talent, a wrestler, a superstar. I think people forget that there's no right way."
If you use any of the quotes in this article, please credit "Busted Open Radio" with an h/t to Wrestling Inc. for the transcription.