Former WCW Star Glacier Comments On Accusation That Bill Goldberg Injured Him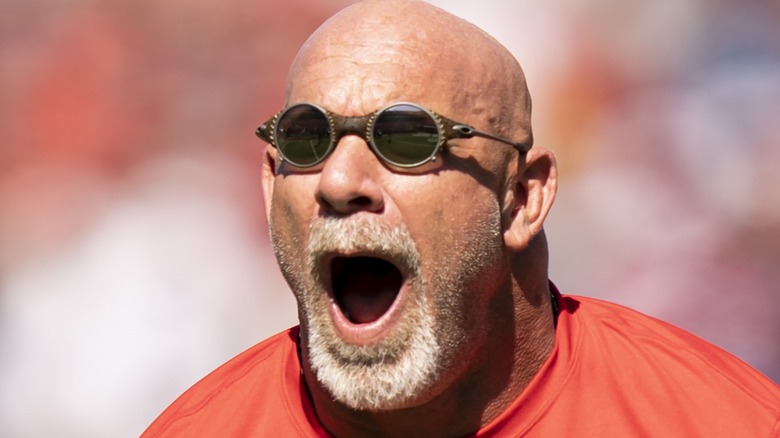 Steve Limentani/isi Photos
Bill Goldberg has become a bit of a divisive figure in the world of professional wrestling, especially to people like Bret Hart who have held a grudge over Goldberg's less-than-stellar track record of taking care of opponents. But one former WCW star has nothing but nice things to say about the former WCW World Heavyweight Champion. On the latest episode of "The False Finish," Glacier said that he loved to work with Goldberg.
"With Bill [Goldberg], Bill's still a great friend of mine to this day," Glacier explained. "Bill and I always had great matches. I can tell you right now, I love Bill like family, and yes that intensity was very real ... I trained a lot with Bill when he was down in the Power Plant. Every match we had he [gave me a lot of offense] ... he respected what I brought to the ring. He could do a lot off my kicks and stuff like that." After a June 1998 encounter with Goldberg, Glacier suffered a knee injury that required surgery and was shocked –years later– to hear that some believe Goldberg was responsible for the injury.
"That was 0% Bill Goldberg's fault," Glacier said. "That was 100% Glacier's fault. It was my spinning leg sweep that I do. I was too far away from him. That's on me. Usually I try to get calf-to-calf ... I hyper-extended my knee." Glacier gets frustrated hearing Goldberg receiving the blame, stating unequivocally, "He never injured Glacier."
After WCW, Glacier spent time on the independent circuit and even wrestled at the first AEW Double or Nothing in 2019. Glacier nearly went to WWE but turned down a pitch to portray a state trooper character.