AEW Star Samoa Joe Discusses Filming The Upcoming Twisted Metal Series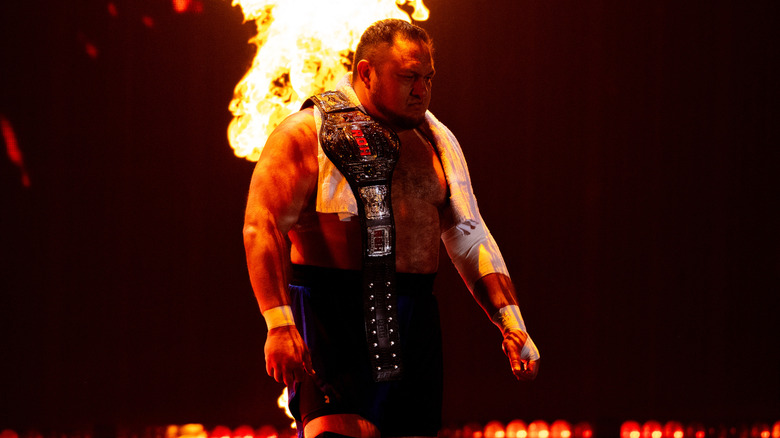 AEW
Samoa Joe is portraying Sweet Tooth, the infamous killer clown from "Twisted Metal" in a new TV series based on the popular video game franchise. In an interview with Doughboys Media, the Ring of Honor World Television Champion gushed about playing the iconic character.
"It's cool, man. What can you say?" Joe said. "It's Sweet Tooth! Like it's a kind of an iconic video game character, especially from my youth. I'm an every game generation guy, I've been there for every one. So PlayStation when it launched, 'Twisted Metal' came out that was like the co-op 'we're gonna sit down and play this – this crazy, blow up the Eiffel Tower' kinda game, so it's weird getting a call out of the blue [to screen test]."
Joe had a longstanding friendship with executive producer Carter Swan, who felt he'd be perfect for Sweet Tooth. According to Joe, Carter told him he wanted him to be in "Twisted Metal," to which Joe replied, "Is it the clown?" Upon confirmation that it was indeed "the clown," Joe was elated.
Making Mom Proud
Joe says that when he brings up "Twisted Metal" to people, they reply, "You mean that crazy clown thing?" Further cementing the iconic status of Sweet Tooth. Joe says his mother is thrilled about the casting since, despite wrestling on television for 20 years, this is Joe's first network show. He says she has no clue who Sweet Tooth is or what "Twisted Metal" is but she's happy her son is on network television. Joe chuckled that she was less than thrilled when he showed her the first trailer and saw he was playing a murderous clown.
Joe says that despite the honor of playing the iconic character, filming was brutal as Joe was stuck in what he described as a "hot box" for days on end.
"[The clown mask] wasn't made for breathability," Joe chuckled. "Wearing the mask wasn't as bad as you'd think it was but it definitely made a 112-degree day in New Orleans tougher to shoot."
If you use any of the quotes in this article, please credit Doughboys Media with an h/t to Wrestling Inc. for the transcription.
---
Check out Wrestling Inc. on Monday, July 24, when our exclusive interview with Samoa Joe comes out!