Bruce Prichard Recalls Jim Ross' On-Air Reaction To Being Drafted To WWE SmackDown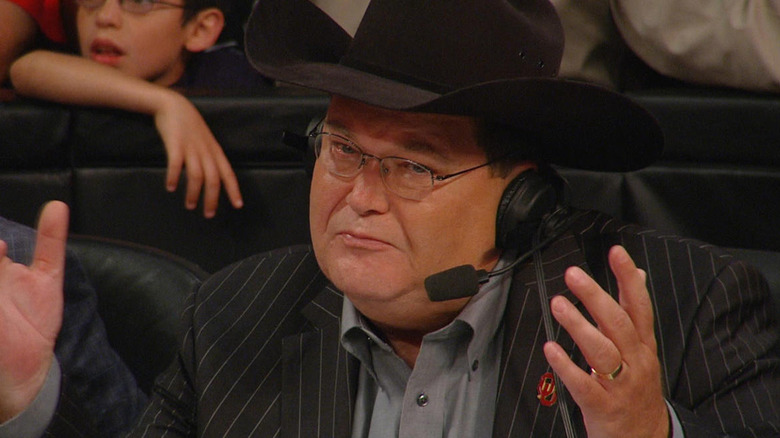 WWE
The 2008 WWE Draft saw then-"WWE Raw" commentator Jim Ross be moved to "WWE SmackDown." However, Ross — who currently works for All Elite Wrestling — was unaware that he would be switching brands during the roster shake-up and was visibly disappointed when his name was announced on the June 23, 2008, episode of "Raw" in San Antonio, Texas. WWE executive Bruce Prichard looked back on Ross' reaction during his "Something to Wrestle" podcast. 
"We didn't tell anybody [who was being drafted] and wanted a genuine reaction, which we got," Prichard said. "'I ain't happy about this by god. I'm gonna talk to somebody later on.' So JR was none too happy. Again, you get the real emotion. It's not a rib. It's nothing else. It's actually just something to get a true, passionate emotion from someone versus a phony, 'Ah, well, here comes 'SmackDown.'
"It was true. He was disappointed. He was a part of 'Raw.' He did see himself as the foundation of 'Raw.' And yes, we were looking to shake things up. That was why the move was made. Just shake things up. Make it different. And changing the lead play-by-play and commentators was one way of doing that to give the show different energy, to give the shows [a] different feel. 
"Again, I think if he had known, I believe that the reaction would not have been nearly as good."
If you use any quotes from this article, please credit "Something to Wrestle" with a H/T to Wrestling Inc. for the transcription.