Bruce Prichard Recalls Divided WWE Locker Room Opinion Of CM Punk's 2008 World Title Win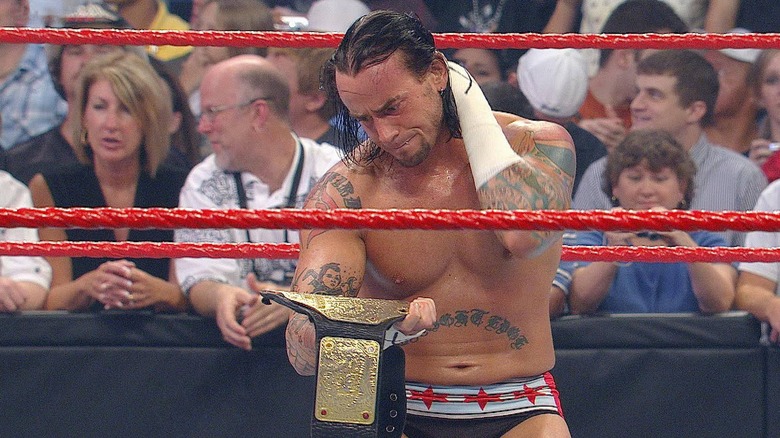 WWE
CM Punk has long been a polarizing figure in professional wrestling, so it makes sense that his first major championship in WWE fell along similar lines. After navigating the perilous WWE system, Punk managed to win the Money In The Bank Ladder Match in the spotlight of WrestleMania 24. Several months later, Punk would cash in his briefcase and contract, defeating Edge during an episode of "WWE Raw," and winning the World Heavyweight Championship.
On a recent edition of his "Something To Wrestle" podcast, long-time WWE executive Bruce Prichard recalled that big win for Punk and admitted there was a 50-50 divide backstage from both WWE officials and talent on that call being made. "It was controversial because I don't think Punk had a lot of people in the locker room that were really pro-Punk," Prichard said.
"I thought if he's that polarizing in the locker room, then what's the general audience feel about him? I really felt the general audience was intrigued. He was different and there was something about Punk, especially at that time, that there was a groundswell and people were getting behind him," Prichard added. "There were those that were like 'What the hell are you doing?' and those who were happy for him. It was a moment that no one was going to call, and I thought it was a good one."
Prichard also claimed the decision for Punk to win the title — as well as pushing young talent like Cody Rhodes and Kofi Kingston — was designed to rid the company of any "staleness" in their main event picture. Punk would win four more world titles during his WWE run, holding the WWE Championship for 434 days at one point, before his exit from the company in 2014. 
If you use any quotes from this article, please credit "Something To Wrestle With Bruce Prichard" with a h/t to Wrestling Inc. for the transcription.