WWE Stars Watch Manchester United Game During US Pre-Season Tour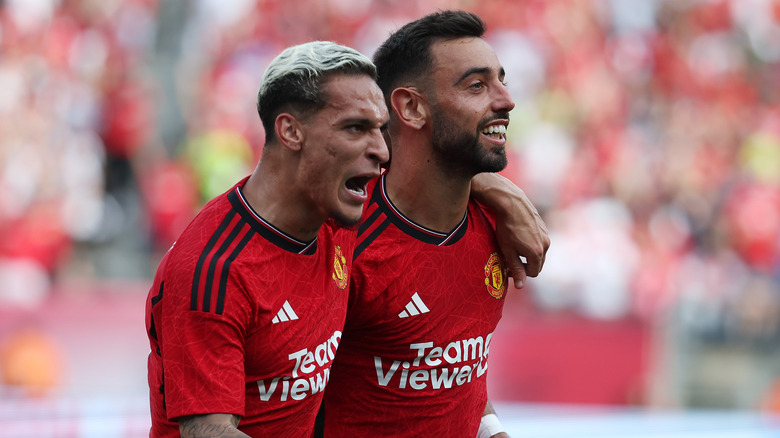 Al Bello/Getty Images
The Premier League is in the midst of a United States tour ahead of the regular season, and a pair of WWE performers were in the crowd during a match last Saturday between Manchester United and Arsenal in New Jersey. According to a report from Manchester United's website, Omos and MVP both took in the game from the stands and spoke about their love for the sport.
"I have always been a [Manchester United] fan," Omos said. "Ever since I was a child, because of David Beckham. ... 'Bend It Like Beckham.' I'm a huge fan and, for me, this is a childhood dream come true."
Omos' manager, MVP, also had plenty to say about the football club. The 49-year-old WWE star discussed the increasing popularity of the Premier League in the United States before moving on to the prospects of Manchester United this upcoming season.
"I think the American fans who are newly embracing the game are [going to] have a wonderful time and hopefully, they will be infected by that and it will start to become more of a staple," MVP said. "Speaking on behalf of the American fans, I hope that they make the boys at Arsenal and my boys at [Manchester] United feel right at home."
"We would love excellence, top of the Premier League table," MVP said of the team's chances this season. "With the departure of [David] De Gea and my new man [Andre Onana] in goal, I hope he steps up and fills those shoes. Get the boys on the pitch and let them gel."
Saturday's match took place at former WWE WrestleMania destination MetLife Stadium in East Rutherford, New Jersey. Manchester United walked away victorious, leading two-to-nothing at the end of the match.