Booker T Discusses Which Of His WWE & WCW Championship Reigns Meant The Most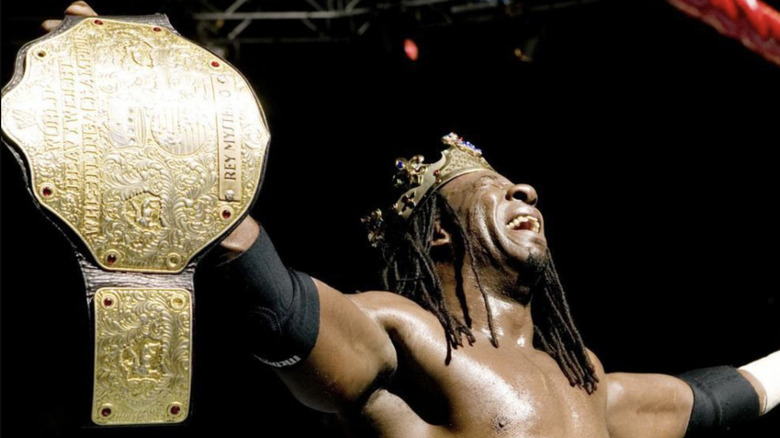 WWE
WWE Hall of Famer Booker T held plenty of singles and tag team gold throughout his career in WCW, WWE, and even TNA. But during a recent appearance on "Insight," Booker explained why his first and sixth world title reigns were the most important to him.
"Yeah, number one, when I first won it, it was like a magical moment," Booker T said. "I never put myself on the radar as far as winning the World Heavyweight Championship or anything like that. I never dreamt one day of being the World Heavyweight Champion, just never did."
Booker T explained that his focus was always on wanting to be the best wrestler in the locker room, and by doing so, that resulted in him winning numerous titles.
"So when I won the World Heavyweight Championship, I remember [Gary Cappetta], we were coming from pay-per-view one night and he goes, 'Book, one day you're going to win the World Heavyweight Championship,' and I say, 'Get out of here.' And many, many years later, I'm in a position to win the World Heavyweight Championship, controversial night of course. But winning it, I think that controversy made that night for me even bigger, more memorable for everyone."
Regarding his only WWE World Heavyweight Championship win — his sixth world title reign overall — that one was special because of who else was involved during his time as King Booker.
"And number six, with my queen, Sharmell, in WWE, it was magical, man," Booker T said. "Both of those nights was equally magical. Like to the cosmos, man, to the nebula. As far as how they felt for me, because winning it with my wife, against Rey Mysterio, was so gracious working with the best in the world. Rey Mysterio, my favorite wrestler, what an awesome night."