Kurt Angle Explains Praise Of WWE Contemporary Chris Benoit & His Wrestling Career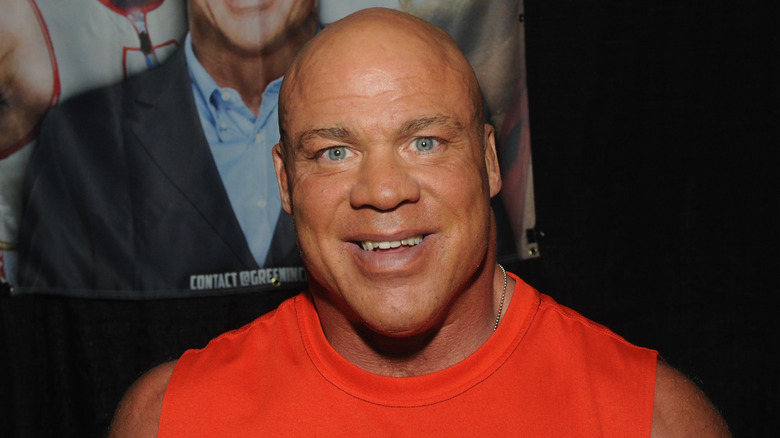 Bobby Bank/Getty Images
In 2007, WWE performer Chris Benoit murdered his wife and son before committing suicide in his Georgia home. The event sent shockwaves through the professional wrestling world, and many are still feeling the effects today. However, some in the industry who knew Benoit feel they must still acknowledge his skill as a performer. Speaking on his podcast, "The Kurt Angle Show," WWE Hall of Famer Kurt Angle discussed his feelings on Benoit.
"The thing is, with Chris Benoit, you can't forget he [still] has a son," Angle said. "Okay? And the reason why I talk about him so much is because of his son. He has a living son right now that thinks the world of his father. I mean, he's obviously forgiven him for what he's done. And there's no excuse for what Chris has done, but when you have a living human being that absolutely idolized his father, [you're not] gonna say, 'I don't want to talk about Chris Benoit because he's a piece of s**t and what he did to his family is horrible.' What is that going to do for that kid, you know?"
Angle and Benoit worked together from the time Benoit joined WWE in 2000 until Angle left in 2006. During that six-year period, the two men shared the ring 101 times.
"A lot of times when I talk about Chris, I get negative feedback on social media," Angle continued. "But you can't excuse the fact that he was one of the greatest wrestlers of all time, and you can't ignore that. It's just — it's really difficult to do that. Now, don't get me wrong — I don't condone anything he's done. But I know this — Chris was the best in-ring performer that I've ever been in the ring with, and I can't lie about that."
If you or someone you know is dealing with domestic abuse, you can call the National Domestic Violence Hotline at 1−800−799−7233. You can also find more information, resources, and support at their website.