Becky Lynch Vs. Trish Stratus Announced For 8/14 Episode Of WWE Raw In Canada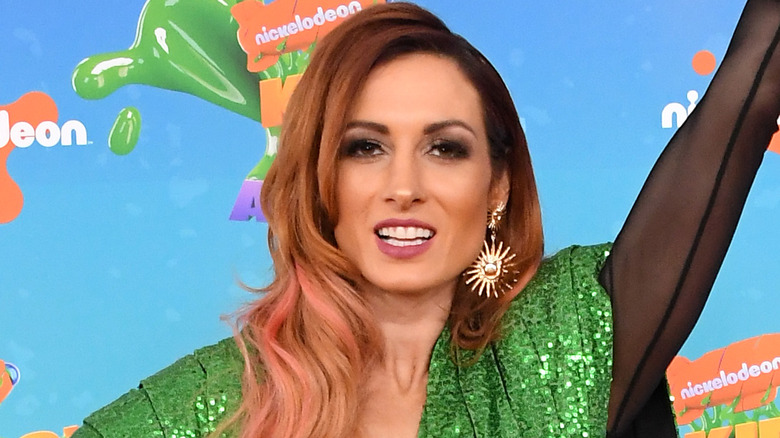 Steve Granitz/Getty Images
A high-profile match announced for WWE SummerSlam has now been delayed. Becky Lynch went on Monday night's "Raw" looking to have her match against Trish Stratus right then and there. And technically, she did.
Lynch called out Stratus to do the match Monday night. Stratus was hesitant, but WWE official Adam Pearce eventually ordered it to happen immediately. However, as soon as the bell rang, Zoey Stark interfered, resulting in a disqualification win for Lynch, far from the outcome she desired. Stratus and Stark prevailed in the ringside brawl that followed and made a hasty exit. Backstage, they once again ran into Pearce who informed Stratus the seconds-long match moments earlier did not count and Stratus and Lynch will meet again in two weeks, when "Raw" emanates from the Canada Life Centre in Winnipeg, Manitoba, Canada. Furthermore, Pearce ordered that Stark will be banned from ringside.
A video later shared on WWE's social media showed a frustrated Lynch tossing aside "Thank You Trish" t-shirts in a merchandise area as she asked what it will take to convince Stratus to fight her.
The exact reason WWE officials are delaying the match is not clear, but Lynch has reportedly been nursing an injury over recent weeks. Fightful Select reported that the decision to push it back was made over the weekend.
Lynch has not wrestled a match at a WWE event since last Monday when she seemingly secured the fight with Stratus for SummerSlam by defeating Stark on "Raw." The stipulation for last week's match stated that Lynch's win would get her the SummerSlam match against Stratus, while a loss would result in Lynch getting "Thank You Trish" tattooed on her chest.