WWE's Drew McIntyre Details The Love-Hate Relationship He Has With His Sword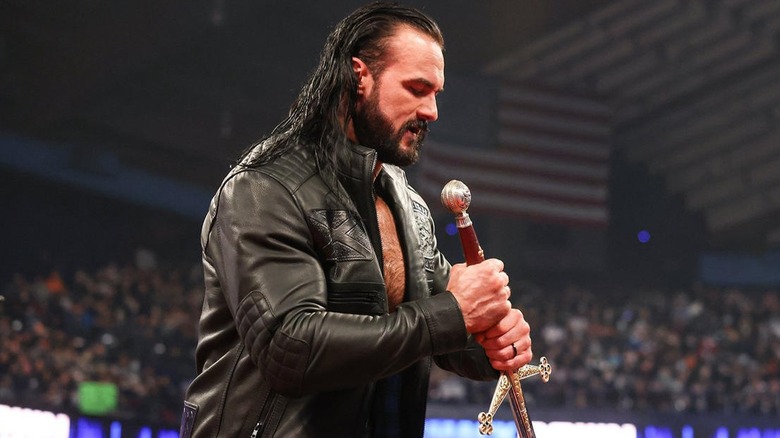 WWE
Drew McIntyre is an intimidating presence, but in recent years, WWE has enhanced that by adding Vince McMahon's sword to his overall presentation. While it certainly looks cool, the former WWE Champion became frustrated with the weapon over time.
"I loved it initially and then I got to the point where I was swinging it around and I started even saying, I am never going to take anybody out,'" he told "Cheap Heat."
It was McIntyre's wife who helped him realize that the sword was an important part of his overall entrance, which it certainly has been. Seeing him plant it into the ground to create explosions of fire is unique to him and makes McIntyre feel like a major superstar. 
"She pointed out, 'One, you probably shouldn't be bringing it to the ring, swinging it around. You should just only have it for your entrance, it's such a visual industry, and it's such an important part of your presentation,'" he revealed. 
McIntyre admitted that he has now made the decision to not bring it to the ring, opting to use it as a prop for his entrances. However, that doesn't mean he hasn't at least considered being able to do more with the weapon.
"I 100 percent pitched situations with that and I'm deadly serious like for WrestleMania or a significant moment or something like that," he said on using it as a weapon. "We've got Hollywood people we work with, we can dress stuff up, we can do stuff in post or pre ... I was like, why do I have it then if we can't pay it off? So, we got to cut the ropes, and that was a lot of fun. 

If you use any quotes from this article, please credit "Cheap Heat" with a H/T to Wrestling Inc. for the transcription.