Former WWE Announcer Josh Mathews Discusses AEW Interest, Impact Wrestling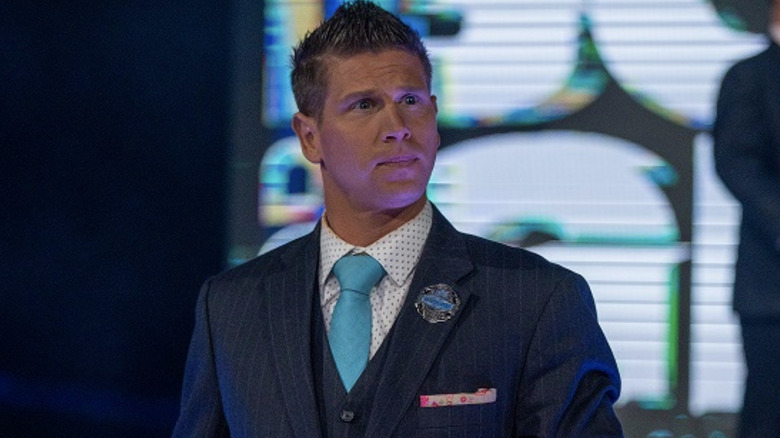 Impact Wrestling
Impact Wrestling's Josh Matthews and his wife, AEW Coach and wrestler Madison Rayne, have very different wrestling careers at the moment. Rayne is currently on the road, touring with AEW, while Matthews is enjoying the more laid-back schedule of Impact Wrestling. On the latest "Oh... You Didn't Know," Matthews was asked if he'd ever been tempted to join his wife in All Elite Wrestling.
"I think what they're doing is great," Matthews said, also noting that he had informal talks with the company. "I should start by saying I love Impact. If they'll have me I'll stay for the rest of my career. It's funny with our schedules because [Madison is] on the Wednesday show." 
Matthews agrees with host "Road Dogg" Brian James that it's entirely possible he wouldn't have the same opportunities in AEW as he does in Impact. Matthews continues to sing the praises of the Impact schedule, especially now that he sees the toll touring takes on his wife.
"Watching her come home on Thursdays. I remember being on the road and being so tired," Matthews explained. "I love [the Impact] schedule, I get to play golf, I love to play golf as much as I want and I get to be dad. I make dinner every night and I'm home every night...we just got back from TV and I was tired for four days. I was gone for two!"
Matthews has also credited his marriage to Rayne as helping him deal with his feelings after he was released by WWE in 2014. Matthews says that watching his wife's success helped inspire him and understand that there is life outside WWE.
If you use any quotes from this article, please credit "Oh... You Didn't Know" with a h/t to Wrestling Inc. for the transcription.