Val Venis Recalls Vince McMahon Phone Call Pitching WWE Adult Film Star Character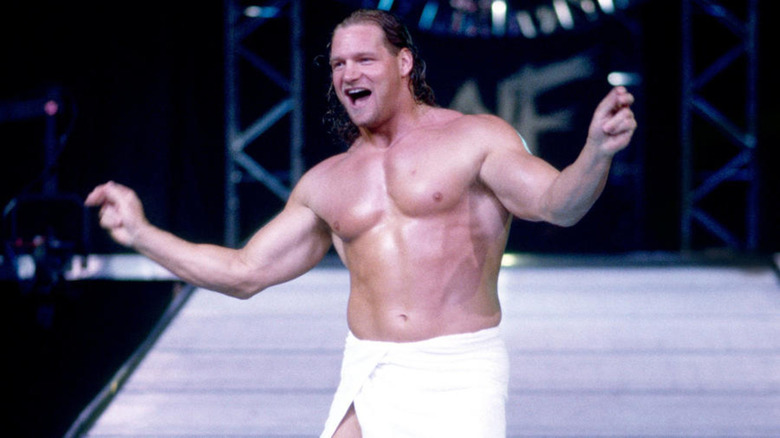 WWE
The Val Venis character personified the Attitude Era of wrestling to a T, and Sean Morley — the man who portrayed the adult film star moonlighting as a wrestler — has revealed that the gimmick was a brainchild of none other than Vince McMahon. In a recent interview with "Stories with Brisco and Bradshaw," Morley reflected on the origins of the character that made him a household name in the late '90s.
"I had just returned from a two-week camp [WWE tryout] back to Mexico," Morley recalled, who, at the time resided in Mexico after a successful career in CMLL. "It was 7 am in the morning in Mexico City, my phone rings and it was Vince McMahon. He says, 'I got Vince Russo on speakerphone with me, we have this character for you, and we want to run it by you and see if you're comfortable with it.'
"Vince McMahon says, 'This character's name is Val Venis.' When he spelled the last name, I was like, 'That's kinda odd.' He says, 'Val Venis was a former film star-turned-pro wrestler.' In my head, I'm thinking Hulk Hogan and Jesse Ventura had already done [movie star gimmicks], and how the hell was I to play a Hollywood actor better than those guys?"
At this point in the conversation, Morley had serious reservations until McMahon explained the genre of films Venis had starred in. "Actually, Val Venis was a former adult film star-turned-pro wrestler. Now he's got my attention! I'm like, 'This s–t ain't ever been done before.' He laid out the basics of the character, but he didn't have to twist my arm — working with hot chicks on a massive WWE stage ... are you kidding me?"
When Bruce Prichard's Wife Was Less Than Thrilled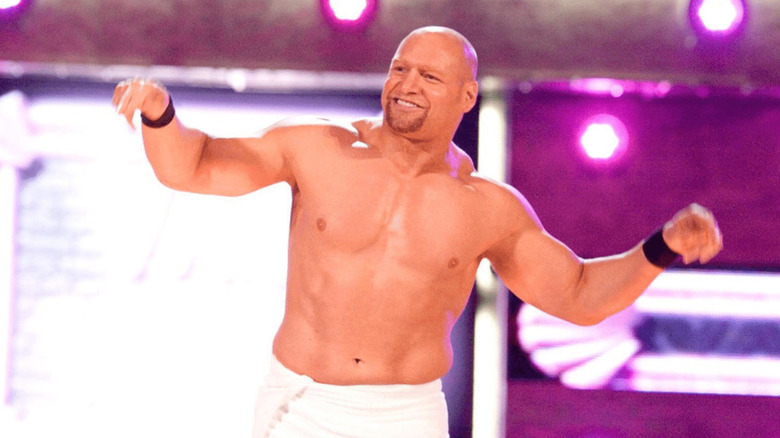 WWE
Just as Sean Morley expressed enthusiasm about the character, McMahon laid out some cautionary words. "'Take at least 24 hours [to] contemplate this character. I need you to feel comfortable with it. Because if you don't feel comfortable with it, it's not going to work,'" McMahon told the wrestler.
Less than 24 hours later, Morley called McMahon and the controversial gimmick was officially in the works. Once the WWE machine began building up the Val Venis character, a series of vignettes began to air showcasing his lifestyle on and off the set. The most notable of those aired on the May 4 episode of "WWE Raw" where Venis was seen getting cozy with popular real-life porn star Jenna Jameson. According to Morley, the vignettes were shot at a WWE executive's house, much to the chagrin of the executive's wife.
"The Jenna Jameson vignettes were shot in Bruce Prichard's house," Morley revealed. "I don't think his wife was too pleased about having Jenna Jameson in her house, but it is what it is. I didn't know about any of this until after the fact."
As part of the Venis character, Morley would often add sexual innuendos in his promos, many of which were meant to annoy the men in the audience. He revealed that many of those suggestions came from McMahon, who was hands-on in ensuring the character got over on WWE television — which it did. 
"Vince would constantly push the idea to me that, 'When you create these jokes, they have to be constructed in a way where the adults will understand it, but the kids will be like, 'Why is everyone laughing?' What's so funny about it?' To me, that's a little bit [an example] of Vince exhibiting morality in his product, which I didn't think about until several years after the fact. That was something that constantly stuck in my head."